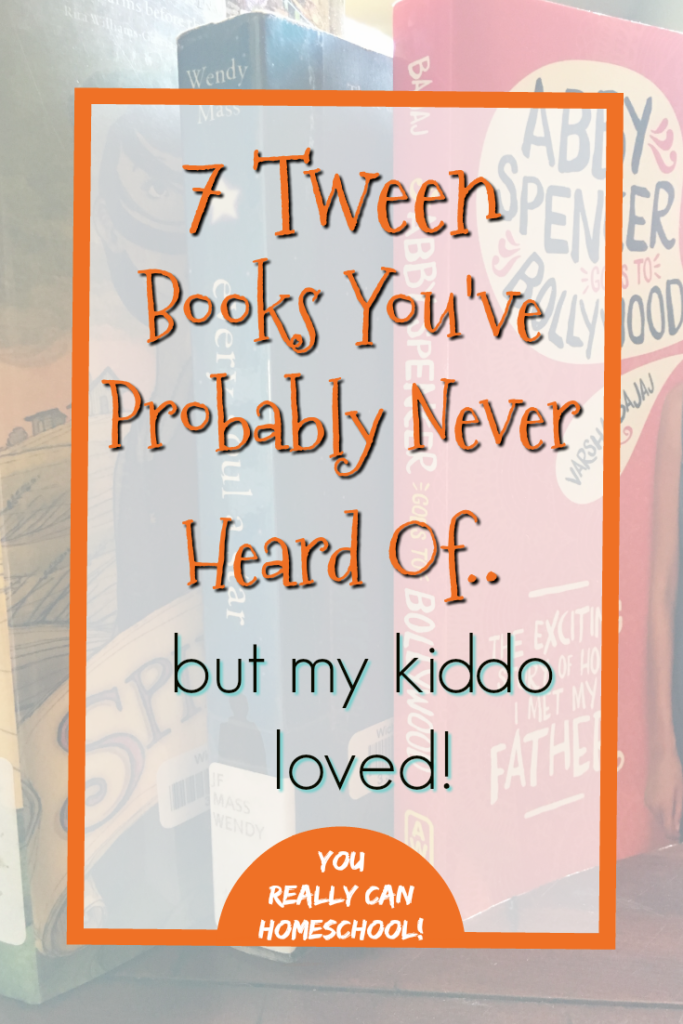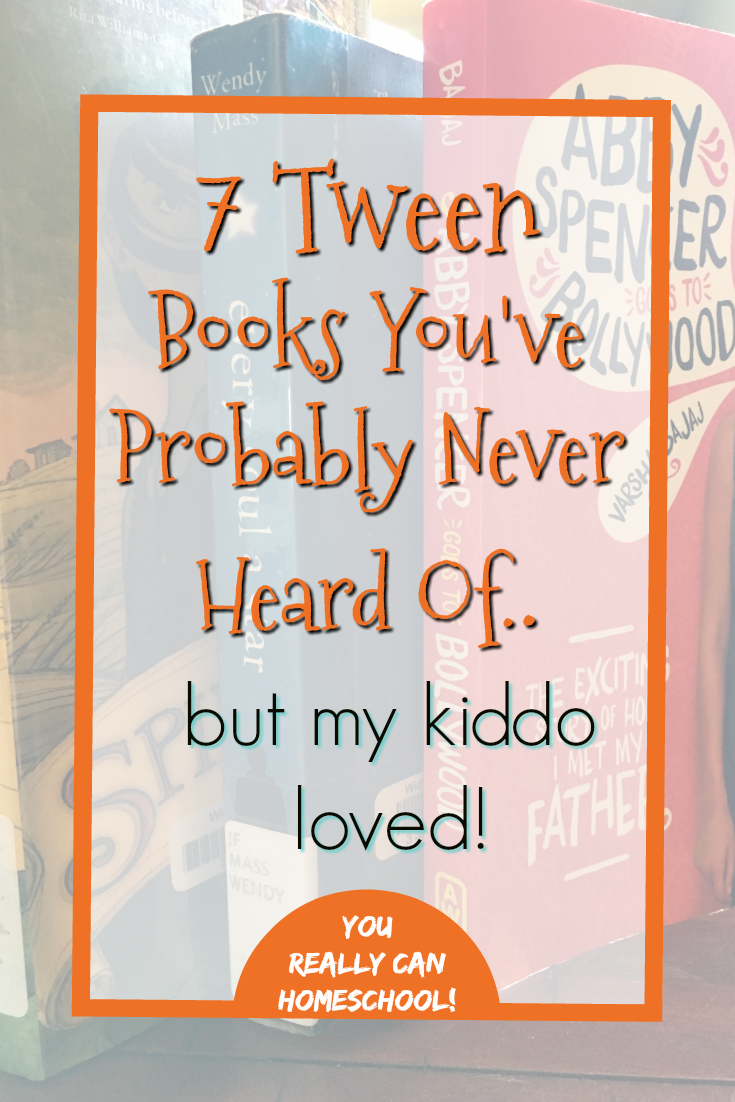 There are so many book lists out there. Now, don't get me wrong, I LOVE a good book list… but here's my problem, they all seem to have the SAME (dare I say, boring) books on them!
I know, I know… classics are classic! But my kiddo won't read them. 🙁 Boxcar Kids? Nope.  Penderwicks? Not  a chance. Maybe she should read these "classics" but my goal is to help her remember how to love reading… and those books aren't going to do that for me (or her).
The thing is… there are so many fantastic writers out there, and new books all.the.time. why do so many people stick with all the old, "tried and true" books? Well, we don't. I think she's turned a corner on her "I hate reading" phase. She probably won't admit to liking reading if you ask her, but she's been reading, and by the conversations we have about the books, and the look on her face when she brings me a finished books and gasps, "You HAVE to read this one!!", I'd say she's enjoying it too. 😀
7 books you've probably never heard of that my tween loved.
This is the third book in the All Four Stars series. This is the first middle grade series my kiddo ever fell in love with. This was the first book she ever had that, "OMG the series is over, I feel a little crushed and overwhelmed, what will I read now!" feeling with. (Isn't that the best/worst feeling ever?!)
From Amazon:
As the summer winds down and Gladys Gatsby prepares to start middle school, she is nervous about juggling schoolwork and looming deadlines from her secret job as the New York Standard's youngest restaurant critic. When her editor pushes for a face-to-face meeting to discuss more opportunities with the paper, Gladys knows she must finally come clean to her parents. But her perfectly planned reveal is put on hold when her parents arrive home with a surprise:  her Aunt Lydia, one of the only adults who knows her secret, fresh off the plane from Paris. Gladys and Aunt Lydia try one last ruse to fool her editor at the Standard, but even with her aunt's help, Gladys just can't manage the drama of middle school and a secret life. It's time for Gladys to be true to herself and honest with her friends and family, regardless of what those around her think.
from Amazon:
Eleven-year-old Delphine is like a mother to her two younger sisters, Vonetta and Fern. She's had to be, ever since their mother, Cecile, left them seven years ago for a radical new life in California. But when the sisters arrive from Brooklyn to spend the summer with their mother, Cecile is nothing like they imagined. While the girls hope to go to Disneyland and meet Tinker Bell, their mother sends them to a day camp run by the Black Panthers. Unexpectedly, Delphine, Vonetta, and Fern learn much about their family, their country, and themselves during one truly crazy summer.
Click here to purchase on Amazon
This one is historical fiction. It's set during the Great Depression. Hanna really enjoyed this one, and it prompted some interesting conversations as well.
From Amazon:
Thanks to her superstitious mother, Esther knows some tricks for avoiding bad luck: toss salt over your left shoulder, never button your shirt crooked, and avoid black cats. But even luck can't keep her family safe from the Great Depression. When Pa loses his job, Esther's family leaves their comfy Chicago life behind for a farm in Wisconsin.

Living on a farm comes with lots of hard work, but that means there are plenty of opportunities for Esther to show her mother how helpful she can be. She loves all of the farm animals (except the mean geese) and even better makes a fast friend in lively Bethany. But then Ma sees a sign that Esther just knows is wrong. If believing a superstition makes you miserable, how can that be good luck?
Click here to purchase on Amazon
We are currently reading this one together, while we make our way through the NASA Eclipse Kit. This book centers around 3 kids and a solar eclipse. It's well written, and engages in cliff hangers quite well, which keeps us eagerly coming back.  Each chapter is told from 3 characters point of view. It's a great book to talk about writing style, and why the author decided to write it the way she did. Added Bonus: one of the characters is homeschooled (and is super smart)!
From Amazon:
At Moon Shadow, an isolated campground, thousands have gathered to catch a glimpse of a rare and extraordinary total eclipse of the sun. Three lives are about to be changed forever:

Ally:
Ally likes the simple things in life-labyrinths, star-gazing, and comet-hunting. Her home, the moon shadow campground, is a part of who she is. She refuses to imagine it any other way.

Bree:
Popular, gorgeous (everybody says so), a future homecoming queen for sure. Bree wears her beauty like a suit of armor. But what is she trying to hide?

Jack:
Overweight and awkward, jack is used to spending a lot of time alone. But when opportunity knocks, he finds himself in situations he never would have imagined.

Told from three distinct voices and perspectives, Wendy Mass weaves an intricate and compelling story about strangers coming together, unlikely friendships, and finding one's place in the universe.
Click here to purchase from Amazon
We read this one together at the end of the last school year. It's a book that hits all the marks, excitement, intrigue, danger, and emotions. 🙂 It's great for a read aloud too.  It's also a great book for conversations about disability, as well as making good choices, and standing up for what you believe!
From Amazon:
Koby's whole life changed after the accident four years ago. Between the smothering concern of her separated parents and the awkward glances from the kids at school, Koby only feels at home when she is on the ocean in her dinghy.

That all changes when she rescues two dying pilot whales. Day after day, she visits the whales as they begin their long road to recovery. She finds a new friend in Dr. Tracy Michaels, a veterinarian, and gains the admiration of her classmates. But most importantly, Koby starts to recognize her own strength and courage.
Click here to purchase on Amazon
Abby Spencer Goes To Bollywood
We are studying India to kick off our homeschool year. When we saw this book Hanna thought it might be a great addition to our studies. She brought it in last night, some time way past her bedtime lol, and told me I HAAAAAD to read it. So, I'm guessing that means she liked it. 😀
From Amazon:
What thirteen-year-old Abby wants most is to meet her father. She just never imagined he would be a huge film star—in Bollywood! Now she's traveling to Mumbai to get to know her famous father. Abby is overwhelmed by the culture clash, the pressures of being the daughter of India's most famous celebrity, and the burden of keeping her identity a secret. But as she learns to navigate her new surroundings, she just might discover where she really belongs
Click here to purchase on Amazon
Hanna's had this one for a while, but it got stuck on the bottom of the pile behind Abby Spencer Goes to Bollywood. She picked it up and started it as soon as she finished, and is really enjoying it so far!
From Amazon:
By now, twelve-year-old Spirit Holden should have inherited the family gift: the ability to see the future. But when she holds a house key in her hand like her dad does to read its owner's destiny, she can't see anything. Maybe it's because she can't get over the loss of her beloved dog, Sky, who died mysteriously. Sky was Spirit's loyal companion, one of the wild dogs that the local islanders believe possess dangerous spirits. As more dogs start dying and people become sick, too, almost everyone is convinced that these dogs and their spirits are to blame―except for Spirit. Then Sky's ghost appears, and Spirit is shaken. But his help may be the key to unlocking her new power and finding the cause of the mysterious illness before it's too late.
Click here to purchase on Amazon
I feel like we're a little different from other homeschooling families when it comes to reading. We haven't read Heidi, or Little House on the Prairie. We read books that touch on tough subjects. We don't shy away from books that bring about tough questions. We answer those big juicy questions with lots of conversation, and we don't write book reports. Oh, and we sometimes watch the movie… before we read the book. 😉
I felt pretty alone in the homeschooling world, until I started this "little" group over on Facebook. Turns out I'm not the only one. 🙂 If you are secular, relaxed-eclectic and homeschooling older (8+) kids… you should totally join us. 🙂
If you're like us… fill in the box below and I'll send you out future book lists, and my other posts as they're published. 😀