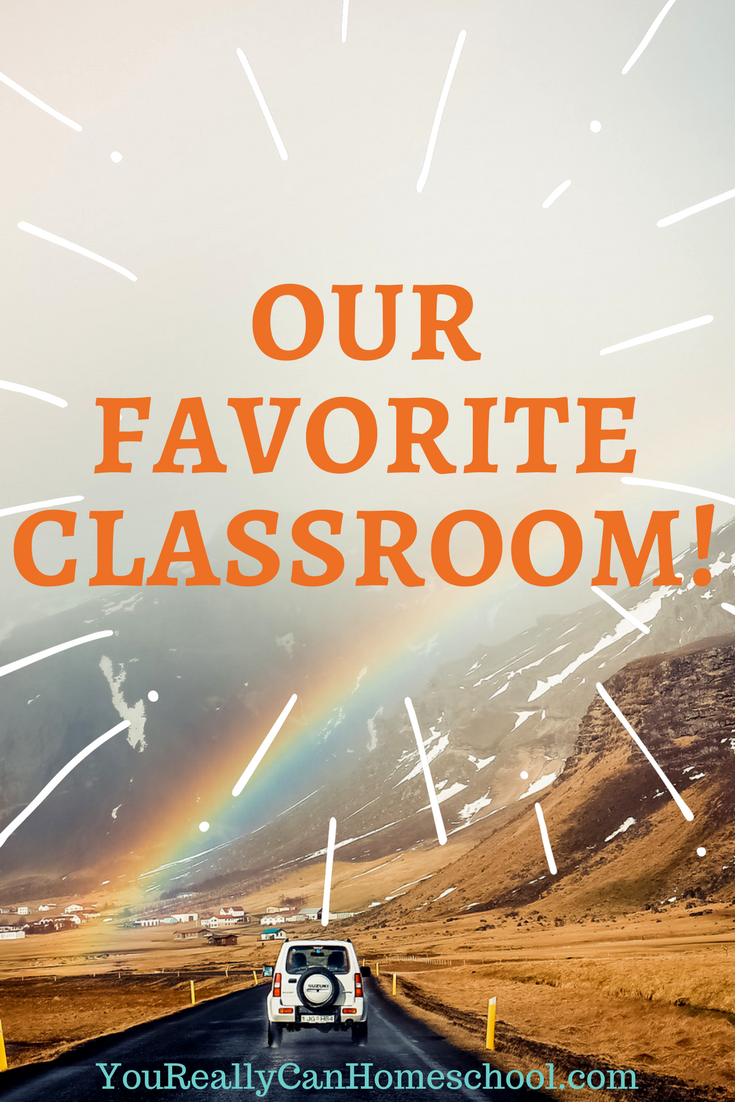 If you haven't done it yet, you've got to try it. It is literally my favorite part of being a relaxed, eclectic homeschooler. What is it you ask?! Car School! That's right, some of our most productive, and amazing homeschool days happen in the car. There's something about the car, the confinement, the inability to run away, the lack of distractions (minus Sean Mendez on the radio lol). We end up car schooling quite a bit, not only because we love it, but also because we live far away from just about everything. 🙂 It takes us 20 minutes to the closest town, an hour to a real town and an hour to get to our homeschool meetups, so in that time we can accomplish a lot.
Yesterday we had to take an impromptu trip to Oklahoma City. We are adding a truck to our fleet, and my husband needed us to drive him down there so he could drive the truck back. That's another thing I love about homeschooling… the flexibility, but that's another post. I thought I'd share with you what our car school day looked like yesterday, and some of our favorite car school resources. 🙂
We don't always use math workbooks, but they are perfect for the car. I particularly like this one. It helps ease my math worries, which I guess are pretty silly since she has no problem doing this workbook. Other ways we knock out math in the car, math games like 5th Grade Frenzy (which actually has all subjects), Math Ninja, and of course the DragonBox games which she loves.
Before we finished our Living Lit ELA curriculum we used that in the car all the time. 🙂 Now we find Mad Libs are a great way to work on grammar and English language skills, and they're hilarious. 🙂
We've recently started writing together. Me to sharpen my skills, her to *fingers crossed* start enjoying writing. We wrote 2 hilarious stories yesterday in the car using this Write the Story book. (BTW, I'm IN LOVE with this book!! It's been like a magic elixir when it comes to writing for us.)
Podcasts! We only somewhat recently found podcasts, but OMG! We love them!! A few of our favorites are BrainsOn! which is science. Here's one of our favorite episodes. We LOVE LOVE LOVE the citizen science element of this one.
We are heart broken to have gotten to the end of the first season of The Unexplainable Disappearance of Mars Patel, and are anxiously awaiting the second season. This was a fantastic story based podcast. We talked so much about character development, inference, building a story, themes and so much more while listening to this podcast. Our new favorite is The History Chicks. It's all about women in history. These podcasts are much longer than any we've tried before, so we will probably listen to one podcast over multiple trips in the car. I use
Stitcher
as my podcast home. I am, for some reason, complete confused by Itunes lol. Stitcher is much simpler for me, and it delights me that our car connects to my phone so we just listen to the podcasts right through the stereo.
Of course, you can't forget books!! We've probably read a thousand picture books this year in the car, and many a novel. Hanna is currently reading All Four Stars, which she's absolutely enjoying! 🙂 We also keep "fact" books in the car, like this one, this one, and this one, which always manage to prompt conversation. Which is probably the biggest way we learn in the car. We recently have had amazing conversations about education, loans ~ including how they work, interest, qualifying for a loan, and when it's good vs. bad to get a loan. We've had conversations about things I don't think we'd ever talk about if we weren't in the car. There's something about not looking directly at each other that seems to make her open up and be more willing to talk. I love that.
As you can see, you don't need a desk, or even a dining room table to homeschool. A car works just great. If you're a car schooler, share your favorite car schooling resource in the comments below! Can't wait to hear.