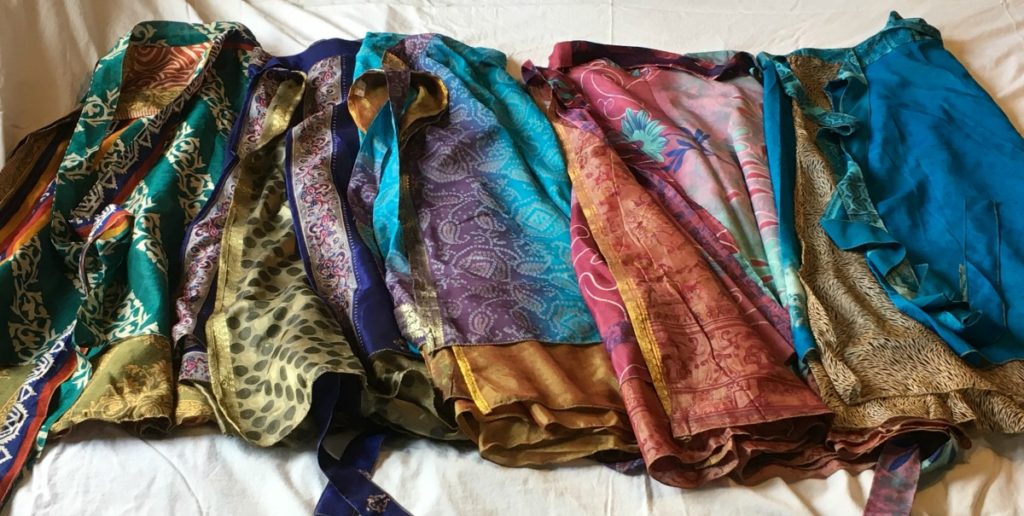 My wrap around skirts from Darn Good Yarn arrived in the mail today. I've been like Hanna waiting on an American Girl magazine when it came to waiting on these skirts! Checking my mailbox every day, staring out the window stalking waiting for the mailman to come.
It all started with a facebook ad, or was it that we are studying India, or that I've been feeling frumpy and wanting to do more self care… I don't know where it started, but it ended with gorgeous gems showing up in my mailbox today.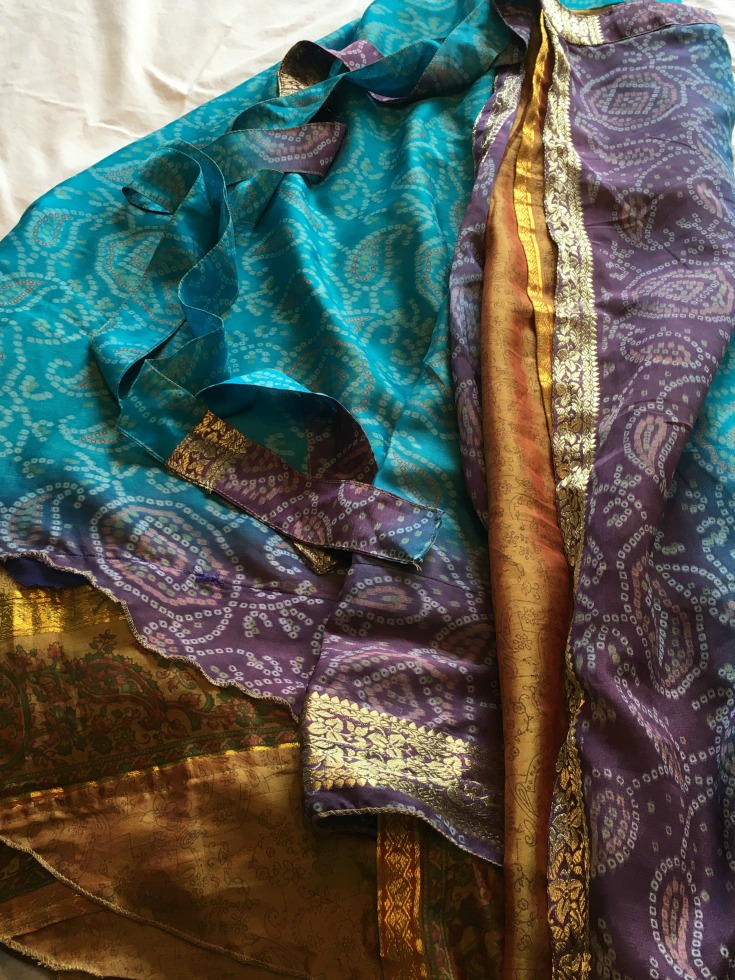 Darn Good Yarn is a fantastic small business that provides safe jobs for 300 women from Tibet and India. These jobs allow them to support themselves, their families and even their communities, when they would otherwise have minimal opportunity. I love to support a good small business, and the fact we are studying about India made it hit home even harder.
I saw the ad for the wrap around silk skirts on Facebook and clicked over. The website was beautiful, the skirts looked beautiful and they were having a sale! (Who doesn't love a sale). It was just the push I needed to jump in. I don't normally buy clothes off the internet, because, well it's the internet and who knows how they will fit?! Being that these were silk wrap skirts I thought it would be more likely they would fit when they got here.
The biggest hurdle about buying these Indian silk skirts is each one is a work of art. No two skirts are exactly alike. That's a pro and a con. I'm thrilled to be wearing a work of art… but I didn't get to see the exact skirt or choose the specific ones I liked. They do allow you to add a note about what colors you like and do their best to send you your color choice. I bit the bullet, entered my colors and hit the buy button.
I got an email from the staff saying they currently didn't have skirts in colors they thought I would love and they asked if it would be all right if they waited until the next shipment, a week or so, to send my skirts, as they knew they would have my colors then. I completely agreed, and thanked them for such wonderful customer service.
When they arrived they did not disappoint.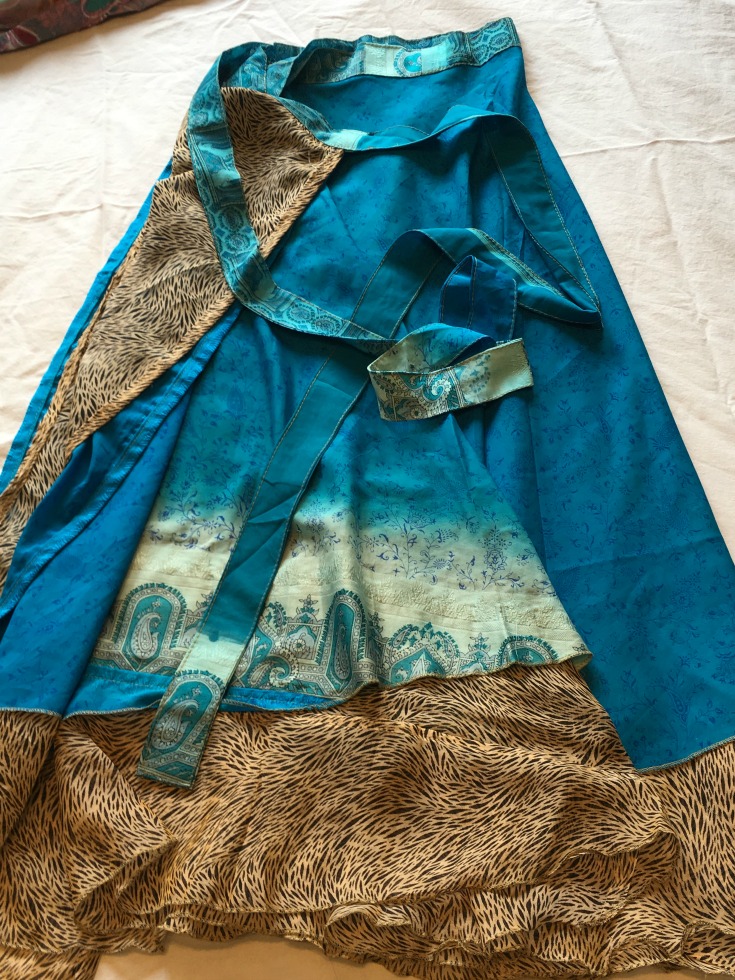 The colors are exactly what I asked for. They are rich, vibrant, luxurious. The silk makes them perfect for a hot summer day, and you can easily add leggings underneath to make them warm enough for winter. I can not even express how beautiful these skirts are. I didn't need to worry about liking them at all. I probably never would have picked them myself, if given the chance, but they were all perfect for me.
So, besides studying India, and helping a small business that's doing good work, why am I talking about skirts on a homeschool blog?
Let me ask you a question.
When was the last time you bought yourself something… anything, just for you?
When was the last time you did it without thinking twice about it, overthinking it, debating, weighing the pros and cons about it, or picking it out only to put it back on the shelf once it was in the cart?
Another question.
When was the last time you bought your kiddos clothes? Did you even think twice?
AHA.
That's it right there.
I don't think this is just a homeschool mom problem, I think it's a mom in general problem. I really, really don't think it's just me… if it is, leave me a comment. ha ha. We don't think twice when our kids need a new pair of shorts, or a book for school. We throw it in the cart, and call it done. But when it comes to taking care of ourselves, that's a whole other story.
When we don't take care of ourselves it becomes nearly impossible to take care of our loved ones. It's time to start giving ourselves a little more love, and it's astounding how much better I feel when I look nice. I'm really a jeans and t shirt kind of mom, but I wore a skirt the other day (to practice for these new ones… don't laugh), and I felt so different.
Lighter. Gentler. Beautiful.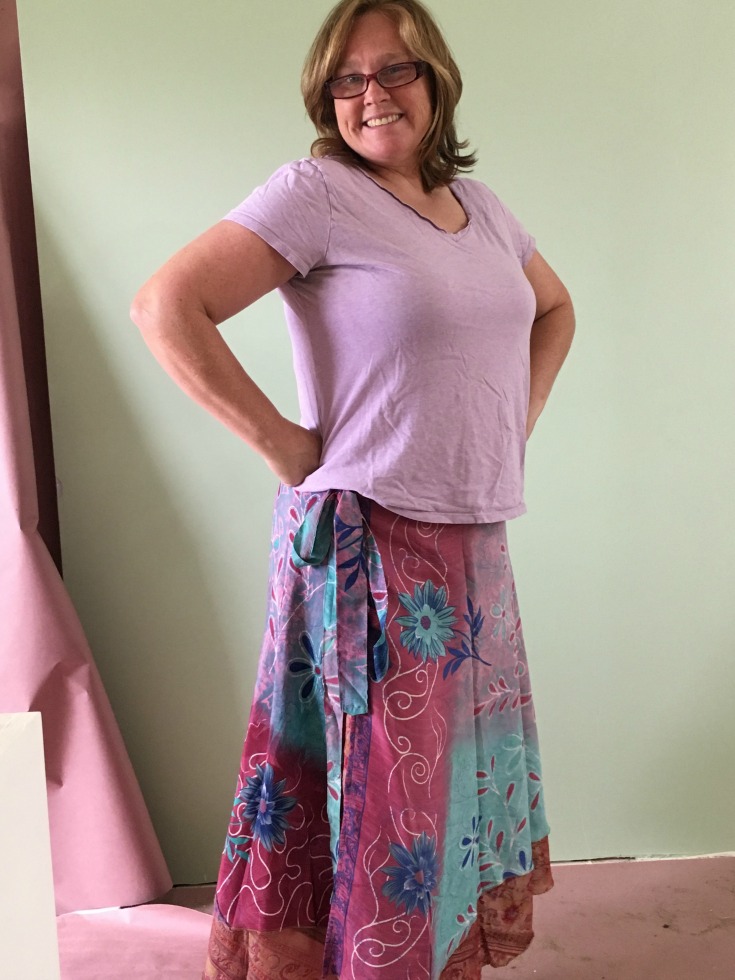 Yep, from a skirt… and it was no where near as beautiful as my wrap around skirts from Darn Good Yarn.
It doesn't take much to change how we feel… but it's up to us to actually do it. Our kids can't do it for us. Our husbands and friends can't do it for us either. We have to make a decision to take care of ourselves, show ourselves love and compassion, to do what can to make ourselves feel beautiful. Because we're worth it. And when we do, it sets a beautiful example for our girls. It lets them know it's not only ok, it's imperative that as women, we take care of ourselves, and that's a lesson I really want to teach.
So… if you want some of these gorgeous silk wrap skirts, and you're brave enough to let them choose… you can get $10 off your first order by clicking here. Go ahead and head on over. You deserve it. Oh, and when your skirts come… make sure you tag me on Insta so I can see just how gorgeous you are. <3