To say we've had an eventful week would be an understatement. We had plenty of regularly scheduled items as well as an impromptu field trip. Here's the highlights.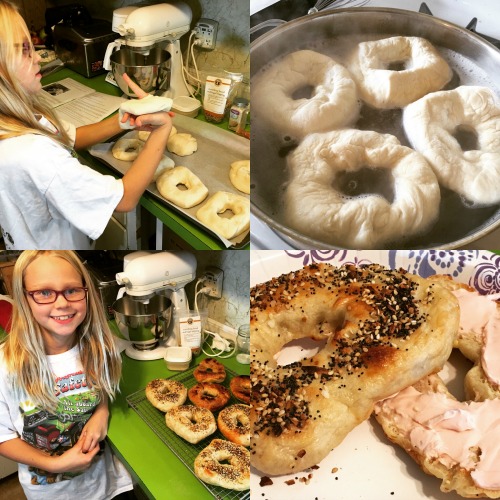 Monday, we spent the day figuring out the science of yeast, by baking bagels. It was tons of fun, and I learned a lot… oh yeah, Hanna did too. You can read all about our bagel adventure and all the resources we used in the Kitchen Science, Making Bagels post.
Monday was also Halloween! We went out Trick or Treating and Hanna received a ton of candy, which she always sorts and organizes. Honestly I think it's her favorite part. 🙂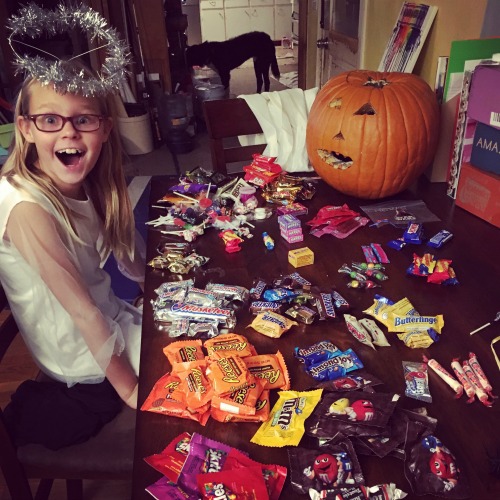 Tuesday is our volunteer day. There were 2 new dogs at the shelter for us to get to know and walk. We talked about how crazy it is that we met Duke only a week ago and he's already such a part of our family. (More about Duke in a minute lol.)
After we finished volunteering I took Hanna and went to vote early. I'm going to be working at a polling station on  Tuesday and was told I wouldn't have time to vote then. It was quite a relief to vote early and be done with it. This election has been pretty exhausting to say the least. We had discussed a few of the ballot items beforehand so Hanna knew what they were about, and the pros and cons for voting either way.
Then we made a menu and did grocery shopping.
We continued our Living Lit study of Papa Piccolo. We also discussed the different ways people in Vietnam were using the animals they received from Heifer International to change not only their lives, but the lives of everyone in their community. It's amazing what one animal can do. (Yes, the annual Heifer International catalog for Christmas showed up.)
Wednesday I was looking at Facebook and realized Pioneer Woman's Mercantile had just opened. We got excited and decided to take a road trip. We mapped it out and figured it would only take about an hour and 45 minutes to get there. We invited my mom and had a girl's day out.
Hanna took her Living Lit with her, and finished her work for the day on the way. We also researched riddles before we left. (Hanna is very into riddles these days) and told riddles for a good part of the trip. We also played an alliteration game lol where we had to try to talk only in alliteration. (Alliteration is my favorite!)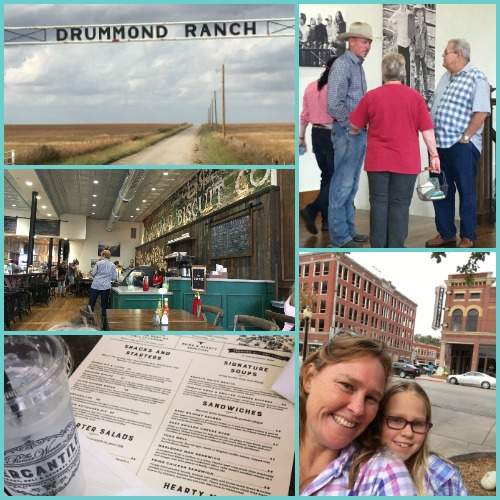 We had a blast at the Mercantile. Everything is gorgeous, and so well designed. The line for food was LONG (2 hours long) so we had a danish snack upstairs in the bakery before tackling the line. We passed the time playing words with friends, and talking to our neighbors in line. 😀 The food was delicious, absolutely worth the wait. We happened to run into Pioneer Woman's husband Todd while we were eating our danishes and had the chance to ask him where/how we could see their wild mustangs. He gave us directions, so on the way home we stopped to see them. Talk about amazing!! I don't think I've ever seen such a large herd of horses out in the open prairie.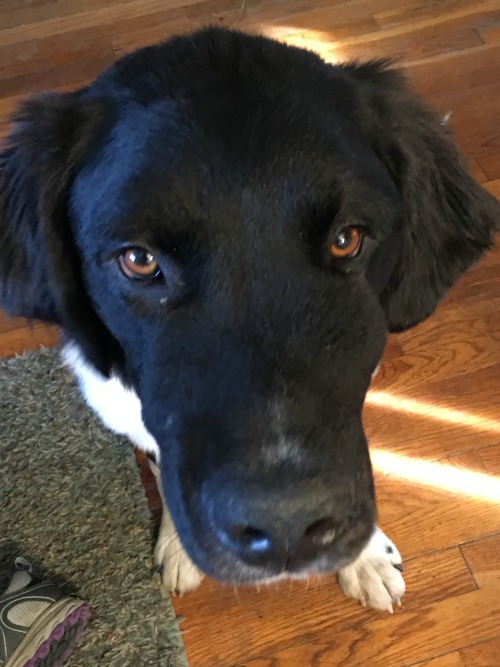 Thursday morning we woke up and the swelling, from a porcupine quill, in Duke's nose was getting bigger. 🙁 We called the vet and they had us bring him in so they could open it up, take out the quill and flush the wound. They ended up taking out 8 other quills while he was under anesthesia. We had already taken out 2 quills on our own through the week. These porcupines are no joke.
The house was so quiet without Duke, not that he's a loud dog or anything, but Hanna's usually calling his name, or playing with him or something. It hasn't even been a week since he joined our family, but he's already such a big part of it, his presence was definitely missed while he was gone.
We dug into Mystery Science and talked about why trees grow so tall, and put together a "grass head" as our experiment. Hopefully the grass seed grows better than the seeds we used in our seed viewer. I guess we'll know in a week or two. 🙂
We also talked about what food to make for Thanksgiving, which led to a discussion about homemade ice cream, and why you add salt to the water. I am always surprised by where our conversations lead and how much science you can see in the world when you start looking for it.
We'd watched a DYI SCI episode (It's free with Amazon Prime so Try Amazon Prime 30-Day Free Trial
) earlier in the week, where Steve Spangler tested Newton's Third Law. It looked really cool, so we set up our very own rocket system across the house. 🙂 We found some interesting things about when it works and doesn't work, which led to many many tests. Here's one of the ones that worked.
We are continuing our low key conversations about the election. Hanna is pretty much over any discussion of the candidates. She can't tolerate all of the fighting, as she calls it. She is however, interested in the process, which I think is probably the more important part. We watched another video on the Electoral college and how you can win the popular vote and still lose the election. That's such a crazy concept. This video from Khan Academy helped make it really clear.
Speaking of Khan… I watched the Expedition Unknown episode on Genghis Khan last night. It was really interesting. The thing I thought most interesting was before his death Khan told his followers he didn't want anyone to know where he was buried and to kill anyone who'd seen the funeral procession, which they apparently did. Now the archaeologists think they've found the tomb through some high tech equipment. It's on the top of a mountain known as The Forbidden Zone. The mountain is sacred and no outsiders are allowed on it. To make sure this doesn't happen, descendants of Khan himself live on the mountain and still maintain they are carrying out his orders. That was just fascinating to me… can you imagine, having a legacy so deep? Well, it's a great episode if you get a chance. 🙂
Today is Friday, I'm not sure what we've got planned other than finishing up our Living Lit for the week, tending to poor Duke's gaping drainage wound, and maybe, just maybe, blowing up a pumpkin. If we do I'll make sure to get video. 😀
Hope you had a fantastic homeschool week, if you wrote a highlights post feel free to share it in the comments below, or just let us know what your favorite part of your week was. <3