What a busy week we've had, some planned things and some seriously unplanned events this week. Let's just dive in.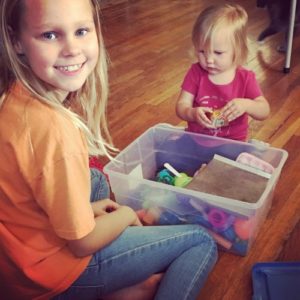 Monday our bookkeeper came out to work on the books and brought her adorable little kiddo. Hanna spent the morning entertaining her. What great practice for becoming a babysitter!
That night we had parent's night at gymnastics, which is always fun. It's amazing to see how far she's come with her skills in 9 weeks. She's almost got her walk over down!
We also started Owl Moon for this week in our Living Lit program. (Which I totally had to run to the library and get when it opened, because I completely spaced getting it ahead of time. Lucky for me our local library had this one!)
We also dug into the Fibonacci sequence a little bit. It's pretty interesting, and we now find ourselves on the lookout wherever we go.
We are continuing our month of China studies, and working our way through the China Surprise Ride. I love how many different activities it comes with. It been great for activities throughout the month.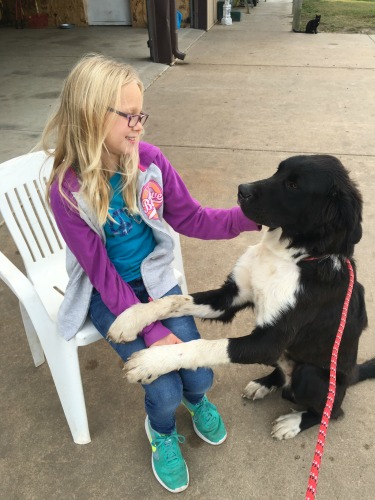 Tuesdays we volunteer at the Wellington Humane Society This week we had an enormous St. Bernard wrench thrown in the works. 🙂 As soon as he saw Hanna he just leaned in, and wouldn't let her go. It was destined to be… but we still had to convince Hanna's Dad of destiny.
This new found love brought about a lot of in depth conversations about the kind of family we want to be, behavior, and responsibility.
We also went to the pumpkin patch which was a lot of fun, and we had a first hand look at the life cycle of a pumpkin. This fit perfectly with the Mystery Science unit we're doing on plant adventures. Our search for the perfect pumpkin took quite a while, but she DID finally find one.
On the way to the pumpkin patch we finished Peak, the book we'd been reading and listening to. It was an excellent book, I highly recommend it!
I had Hanna take a look at this list of favorite books for 5th graders, and create a list of possible books she'd like to read next. We then researched which of these books was available at the library. We found Airborn was available in book, as well as audio book format, so we went with that one.
The audio of this book is a "full cast" audio. Oh my! This is the first full cast audio we've listened to and it's quite a treat. It's like listening to a full play in surround sound in your car!! The story comes to life in a completely different way. This isn't a book I'd normally be interested in, but listening to it in full cast has totally pulled me in. If you haven't listened to a full cast audio yet… try Audible and Get Two Free Audiobooks
.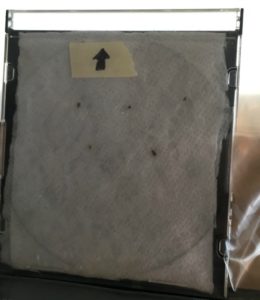 We also continued our plant unit in Mystery Science. This week we answered the mystery "do plants eat dirt". Well, we tried at least. We created a seed viewer to watch our seeds sprout, however, I think the seeds we used were too old, as they have yet to sprout 4 days later, and 4 days was the length of the experiment. 🙁 It's such a cool idea. I think we'll try it again in the spring when we can get fresh seeds.
We finished up our study on the Mary Celeste. We didn't come to any conclusions, but we had a good time considering all the possible theories and their plausibility.
It's the season where Sams now sells these insanely large apple caramel pies. My husband loves them, but they are HUGE!! We are only three people, and can't finish the pie. We did try freezing part of the one he just bought, but he really wanted a single serving size apple caramel pie! Hanna and I took on the challenge. We searched for a recipe. Made pie dough. Figured out how to adjust the measurements for ingredients, as well as cooking time. If I do say so myself, they were quite delicious!! So delicious in fact, there's no pictures. 🙂 We ate them too fast. We used an oversized muffin tin to make them, and they were the perfect size.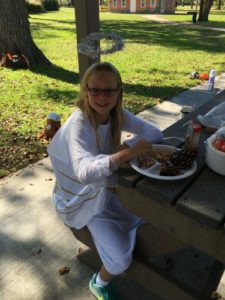 This week was our Homeschool Halloween Party. This is our first year so we've participated in a lot of different homeschool group activities. The party was fun, and it we met quite a few new people from our group we hadn't met yet.
Then there was Friday. Friday was the day. I had book club. We were delighted to have the author of Deadly Design come to our meeting and chat with us about her book as well as the publishing and writing process. While I was waiting for our meeting to start I got a video text. Hanna promising to be good, even after she gets the dog.
So…  the dad had spoken. After a week of begging, and pleading, and bargaining… Duke was coming home with us.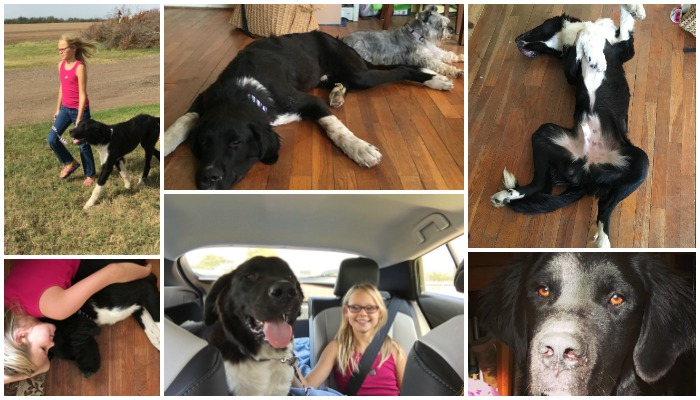 The majority of the rest of our day was spent picking him up, and getting acquainted. He got into an altercation with a porcupine shortly before coming to the humane society. He wasn't feeling great, and was really low on energy. We ended up taking him to the vet Saturday (while I was trying to finish this post lol). The vet pulled more quills out of his face. We got an interesting lesson on porcupines, and infections. He got an antibiotic and a pain killer.
Today Duke is like a whole new dog. He gets up when you walk into a room, he ate breakfast, both his and our black lab Bella's 🙁 , he even tried to play with her. (Which she wasn't so sure about… he is huge!).
It's been a long and eventful week. I looked at Hanna yesterday morning, when I started this post, and asked her if we'd done any school work this week. It felt like our week had been full of other stuff. She looked a little confused and rattled off a ton of school we did. I guess because it fits in, in between other things, and we learn so much just living life, it doesn't always feel like we're doing a ton. When we look back though, we can always see just how much learning is going on. <3
What fun things did you do this week? What was your favorite "lesson". Do share in the comments. 🙂