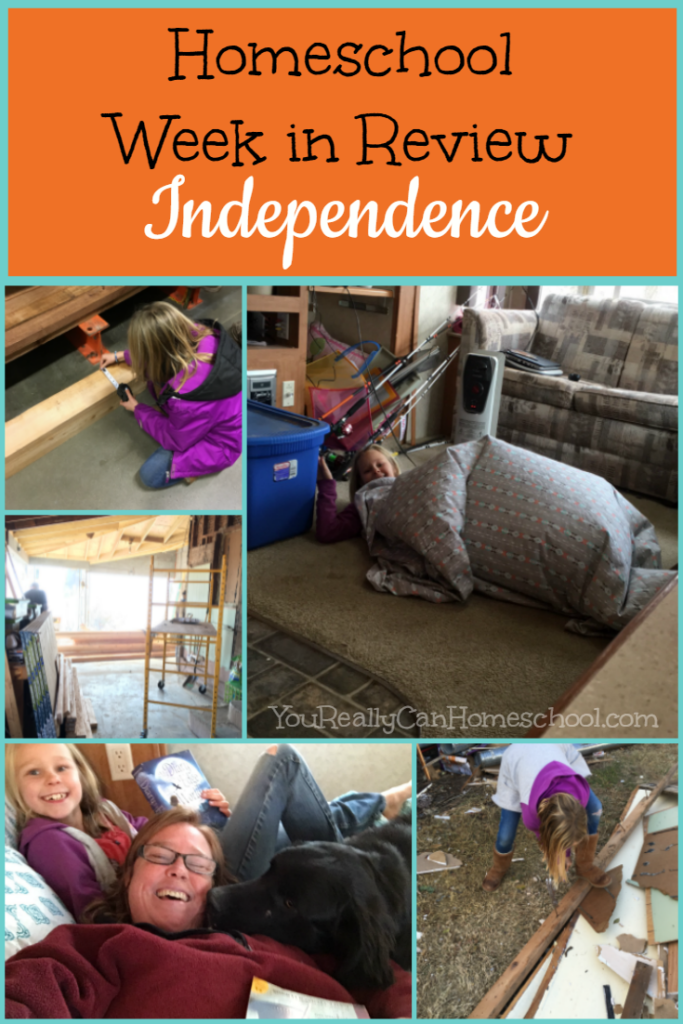 The first floor reno continues. I've been feeling a little guilty because I'm not spending as much time with Hanna and her school work as I'd probably like. However, this lack created growth. 🙂 Hanna is still struggling to do anything on her own, take initiative, get out there and find the answers/solutions. It's understandable. She's spent many years where school was following directions, staying on the line, not talking, doing only what you're told. She's spent most of the week in the camper doing her work.
I can't tell you how many times I heard, from the little bedroom window, "MOM!! I need some help." I'd finish up what I was working on, and head in to see it was a simple problem she really did know the answer to. She'd complain a little, and then get back to work. One of these times though, it took me a little longer to get out there than usual. When I finally got into the camper and asked how I could help she replied, "Oh I already found the answer."
WOO HOO!!
I asked her if she'd just looked the answer up in the back of the book (ready to feel a little disappointed). But she hadn't. She explained how she found the answer, by using resources at her disposal. *So Proud*
Another time I popped in unannounced to see what she was up to, and if any work was getting done. I peeked in and did not see her at the table. A little farther in the door, and I see her laying on the floor, under a sheet.
Her little head pops out… I'm doing a video! About air pressure! *Be still my heart*
We recently started doing an article a day, where she reads a non fiction article, and then writes in her "Book of Knowledge" one cool fact she wants to remember from the article. It's been going pretty well, but I think next week we're going to change it up a little, and instead of me providing the articles, I think I'll have her find something, non fiction, she's interested in to read. She was pretty open to this idea. We have a multitude of non fiction magazines around here, as well as the whole internet. I think this will also gives us the opportunity to have a great conversation about the reliability of content on the internet. 😉
She continues to read My Diary from the Edge of the World, and is still enjoying it.
We also received our new shipment of Which Way USA, we got both Minnesota and Louisiana. She's still working through New Jersey. We're trying to go in the order the states became part of the Union, as best we can, since we don't have all the states yet. 🙂
180 Days of Math is still working out quite well, it's just enough to keep her thinking mathematically and practicing. However, the majority of math these days is coming from hands on building, measuring, leveling, tracking etc.
Science this week has also been really hands on. We learned about radiant heat, which was very interesting to experience when we put plastic around our house so we could be a little warmer while doing construction. We had a heater, but due to the radiant heat of the plastic didn't even need to turn it on for a while! There was also experiments with air pressure, and the vents. 🙂 We also tested how long the propane tank would continue providing heat in the camper, when the temperature was set at different levels. Let's just say my Father in Law found that when the thermostat is set at 70 or above the propane tank runs out a day quicker, and quits in the middle of the night. 🙁 We also had some really interesting experiments with leverage, and force. A pretty smart grandpa taught her about adding a small piece of wood under your hammer when you're trying to pull out nails to give you even more leverage than your hammer arm provides. 🙂
All in all it was a week full of learning, even though I felt like a total slacker. I love weeks like these, because they remind me that she's learning all the time, whether I'm there standing over her shoulder pointing the way or not. <3