It all started with a simple wish to paint the living room. Which quickly snowballed into a tiny kitchen addition/remodel, which quickly snowballed into a complete kitchen renovation. How does that happen? Needless to say, life has been hectic, and dusty this week, and we've managed to learn a ton in the process. Who knew you could find so much learning in a renovation project!
There's been more measuring than I can describe. The measuring, and leveling, and jacking, and measuring and shimming, and jacking, and measuring. 😀 Gotta love 100+ year old houses with an almost 2 inch slope in the kitchen. If this wasn't a lesson in engineering I don't know what is.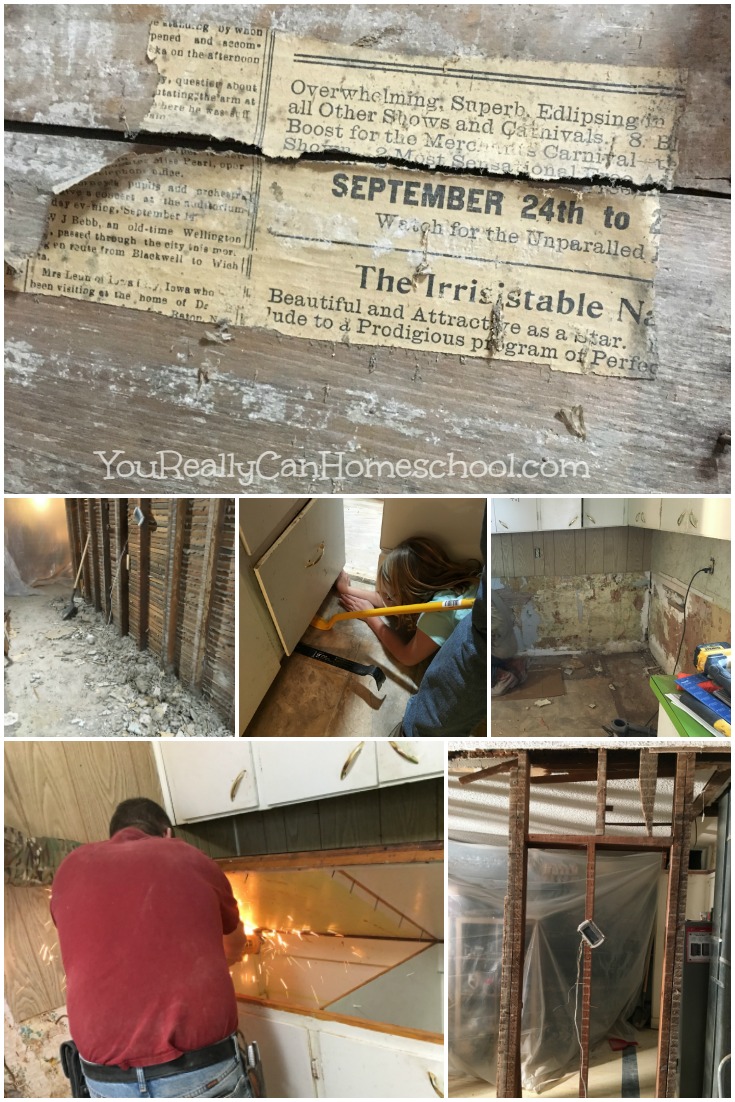 Well, when it became somewhat clear it was going to be difficult to get the floors level with the cabinets in place we decided we'd just "pull them out and level the floor, then put them back in." But nothing is standard and the cabinets are in pretty bad shape… and weren't built all that well to begin with. We finally decided to just scrap the cabinets and build new ones. Good thing we did, it seems the cabinets were the only thing in this house actually screwed in, and they did not want to come out lol. We ended up pretty much destroying them to get them out.
We got some cool history lessons once the lath and plaster  was all gone we could see the original walls from our home built in the late 1800's. We could see true 2x4s. We could see small doorways. We could see random/scrap wood pieces holding up the walls, and had some great conversations about how people lived in the 1800's and what it took to build a house then. We also discussed building codes and how we build houses today.
We also ran across some old newspapers used as insulation in the walls. I was so bummed we could only find small scraps and none with an actual date on it. 🙁 But it was cool nonetheless, and led to some interesting conversations.
While we learned a lot from the process Hanna also found a way to escape the noise and dust and get her regular work done. 🙂 Thank goodness we bought this camper last Summer. It's about the only place you can go for a reprieve from the dust and noise.
Somehow I also managed to finish a project I've had in the works for a while too. Our much beloved Living Lit program is coming to an end ~ we've about run out of books ~ so I have been thinking about putting together "extension packs" for some of the new books we want to read. I finally finished the first one!! I am pretty excited about it. You can download it for free here. I can't wait to hear what you think!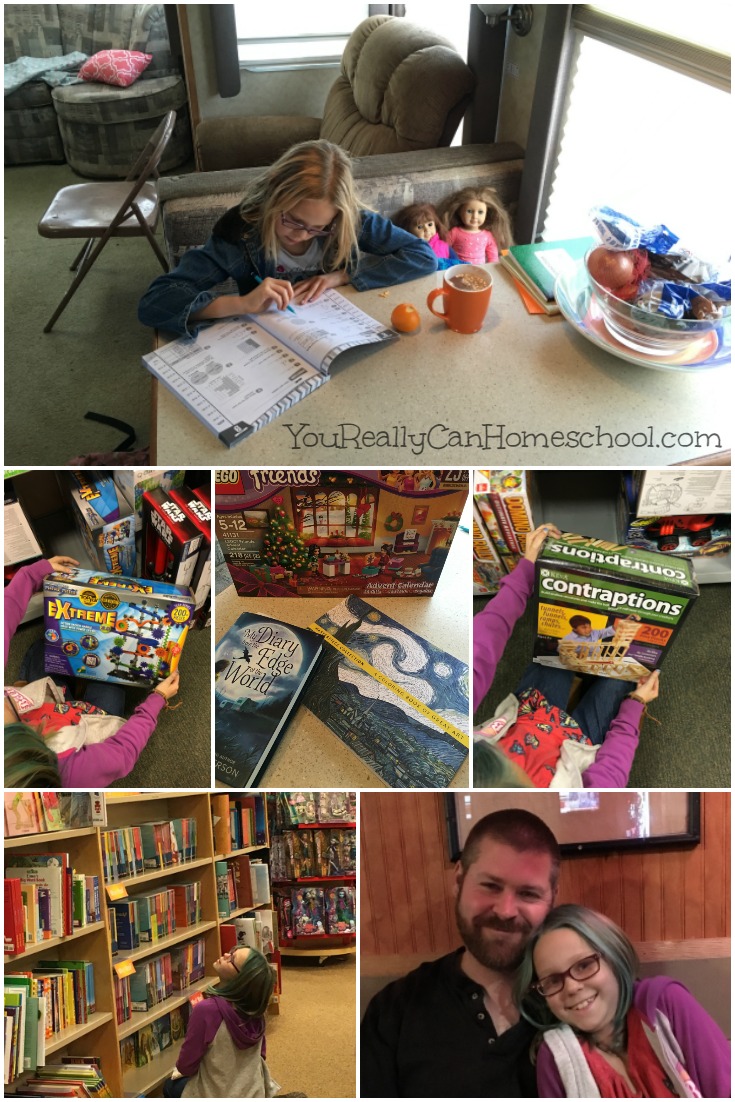 Yesterday we had to take the new car in for a check up and to fix a recalled part. I was thrilled to find out the dealership would shuttle us anywhere we wanted to go in Wichita! We picked the bookstore. 😀
We ate lunch, looked at the games and toys. Hanna made me take pictures of a couple things she'd like for Christmas, and of course we looked at books. 🙂
I was thrilled to see Hanna pick something other than a Dork Diaries book to read this time. Fingers crossed it actually gets read and doesn't just sit on the shelf. It actually looks like a really good book, and I'm looking forward to reading it too.
Speaking of books. I picked up Jodi Picoult's new book, Small Great Things from the library yesterday and can't wait to dig into it. I was not sure I wanted to read it, but then I read this interview with Jodi Picoult and couldn't wait to get my hands on it. Luckily it came in to the library Thursday night, or I would have bought it at the bookstore Friday. 😉
We got back fairly late, and Ryan needed to get some lag bolts to hold up the new beam, so we headed out to dinner. I love spending time with my two favorite people. <3
So that was our week. Messy, dirty, and filled with learning. Can't wait to see what next week brings. Fingers crossed the dusty part is almost over. Ryan says the kitchen will be done by Christmas, I sure hope so. <3