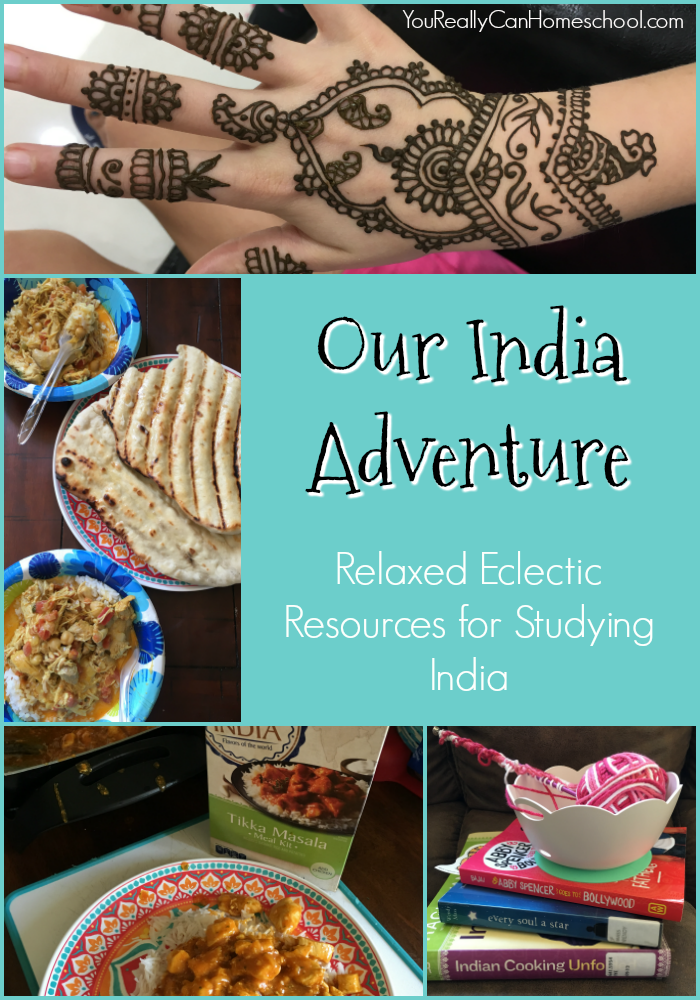 We started our 6th grade homeschool year with India. We are studying cultures of Asia this year, and we were super excited to start with India. We build our culture studies using a wide variety of resources. We include books, movies, documentaries, cookbooks (of course), trips, our community, people we know and anything and everything we can think of to help us not just learn facts and figures about a country, but to help us get a feel for what it's like to live there and be part of the culture. I will say, we are TV people. We also are pretty open with what we watch. You may want to pre-view some of the food/travel shows in this list if you have issues with language. 😉  We had so many resources for India we didn't even get to everything!
Non Fiction Books
Most of our non fiction books we picked up at the library. I've linked to the ones I could find on Amazon, but check your library too!
Sacred River: The Ganges River of India
The Travel Book: A Journey Through Every Country in the World
The Ganges, James Barter
India Enchantment of the World by Don Nardo
India Enchantment of the World by Erin Pembrey Swan
Cookbooks and Recipes:
One of our main focuses this year is food of Asian cultures. We've had so much fun finding cookbooks and learning more about the food of India. We absolutely LOVED the Indian Cooking Unfolded cookbook. We will probably return our library copy and buy one for ourselves. The recipes are super simple, but have rich flavors, most of the ingredients we were able to find in our rural Kansas grocery store. 🙂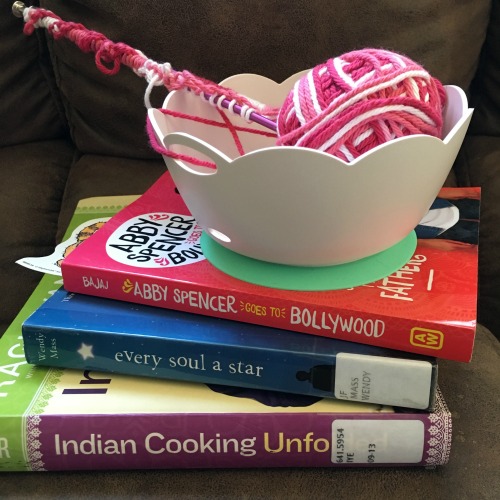 Indian Dinners in a box (From Aldi)
Fiction: 
We added a couple fiction books to make things a little more fun. Abby Spencer was a really fun book (Hanna insisted I read it after she finished it because she liked it so much. I did because, well, she used to hate to read and now she doesn't… so I appease her.) Neela was a good book to learn more history, which she's not super keen on. 🙂
Abby Spencer Goes to Bollywood
Documentary/TV:
We love a good documentary and/or TV show. I'm going to tell you right now, some of these shows you may not find appropriate for your kiddo, including the Gordon Ramsay, and Parts Unknown… I'd preview them if you are iffy on language.
However, Big Crazy Family Adventure was the break out hit around here. We bought it because they end up in India, but turns out they travel across a few countries in Asia, and it was a fantastic show. We ended up binge watching the whole season in 2 days. 🙂 We learned a lot along the way too.
We loved the Ganges episode in Wildest India. We had just read the Ganges non fiction books and it was so cool to be able to put images to the words we'd read, and really see what it was like.
One last thing… CNN Believer. I watched it when it was on the air, and the first half of the first episode about the Ghats at Varanasi was incredible  (Again, you may want to preview it is a pretty tough topic). The second half got a little crazy with cannibals of India… I skipped that part with the kiddo (but found it interesting myself.)  When we got to studying India the show had already been pulled from the air, but we found the episode on Youtube, but I just tried to find it and it was gone. If you can find this episode somewhere, I really recommend it. It does a fantastic job of talking about the caste system, and the ghats.
CNN Believer Ep 1 (first half ~ gets a little wonky after that)
Wildest India (also available on Netflix)
Parts Unknown ~ S3 Ep1 (also available on Netflix)
Daughters of Destiny (Netflix Original)
Bizarre Foods (Delhi)  (also available on Youtube ~ below)
Movies: 
We only watched a couple movies, and both were good and fun in their own ways.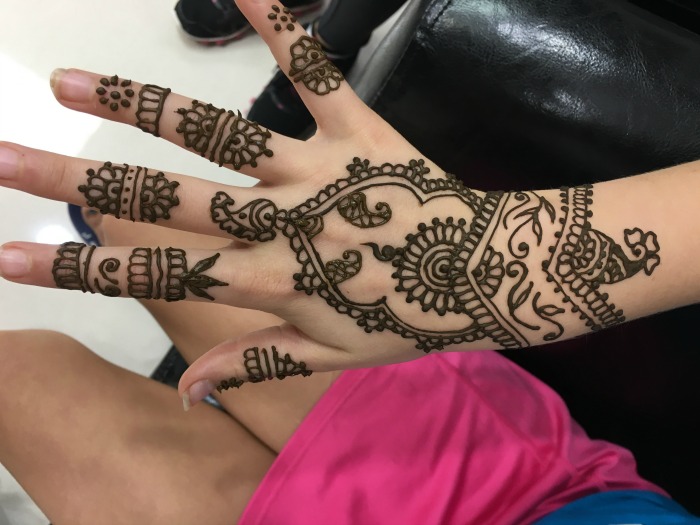 Outsourced ~ Lighthearted movie, with some good culture and geography.
Bride and Prejudice ~ A gentle introduction to Bollywood films.
Field Trips and Connections: 
If you can find an Indian restaurant with a buffet I highly recommend it! It gives you the opportunity to taste and try a bunch of different dishes. If you can find more than one Indian restaurant with a buffet even better! We ate at a couple different buffets and it was interesting how different the same dishes tasted. This is a key component of Indian cooking… every cook has her own spice blend. 😉 We wrote down the names of the dishes we liked the most so we could look for recipes to make them at home. 🙂
Indian Restaurants
Indian Grocery Stores
Henna Tattoos (we googled and found a Brow Bar that did them)
Chatted with a neighbor from Bombay
We had a blast studying India… in fact, we were so excited to get to it, we started our school year early. 🙂 If my kiddo was a little older I probably would have added Slum Dog Millionaire and the movie Gandhi to our list. We probably will watch them in a couple years. India was quite a journey, one we won't soon forget. I think Indian food has made it's way into our hearts, and we'll continue to see it on our plates even after we move on to our next Asian country.
If you have a favorite India resource please join us in my private Facebook group for secular, relaxed-eclectic homeschoolers with older kids and share it with us!