I kept seeing this slow cooker recipe that looked so good, but I really wanted to eat it for lunch, today, in the next hour. 🙂 I did a little researching and figured out how to transfer this recipe to the electric pressure cooker. It worked out really well and it's super simple and quick!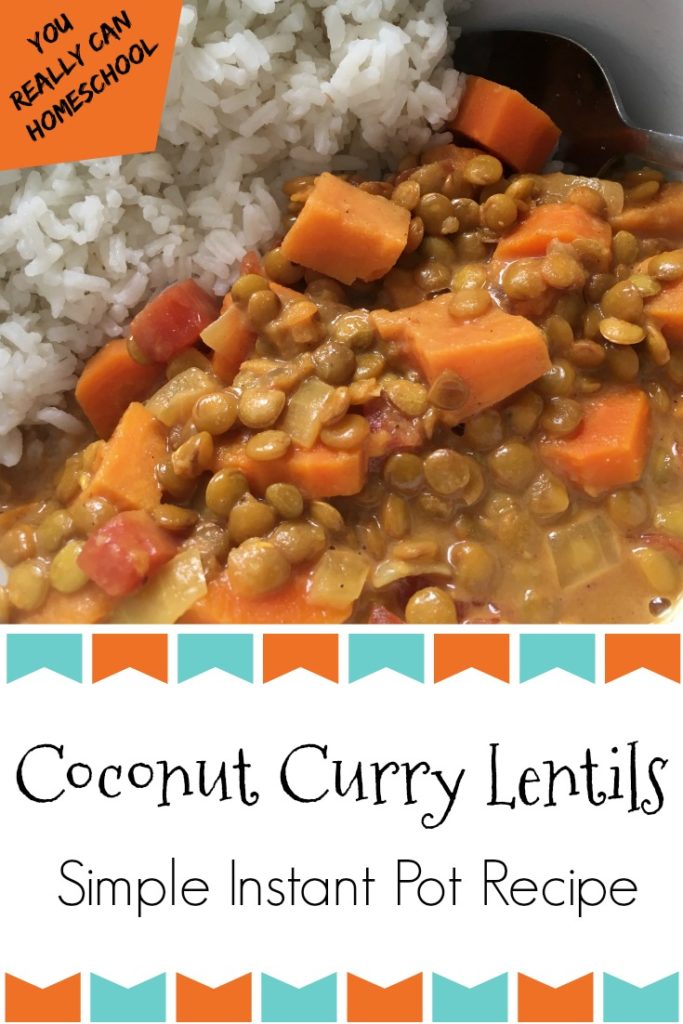 Here's what you need:
1 sweet potato (diced)
1 medium onion (diced)
2 cloves garlic (diced)
2 carrots (diced)
1 can diced tomatoes
8 oz tomato sauce
2 cups lentils
3 tbsp curry powder
vegetable or chicken stock 32 oz
1 can coconut milk
salt and pepper
What you do:
Turn your electric pressure cooker to saute, and throw in the diced onions, garlic, sweet potatoes, carrots and lentils. Let them cook until the onions are translucent.
** This dish requires dicing hard foods. My kiddo loves to cook, and having her dice hard foods used to be really scary. However, we worked through this knife skills course and now we both feel very confident in her ability to cut hard foods! **
Add the curry powder and let it cook for a minute or so.
Add the tomatoes and sauce.
Pour broth in to cover the ingredients.
Put the lid on your electric pressure cooker, and set it on high for 5 minutes. (I set my Power Cooker to 70 pressure.)
When it's done cooking, let it sit for 5 minutes and then release pressure.
Stir in the coconut milk, add a little salt and pepper to taste, warm through and serve.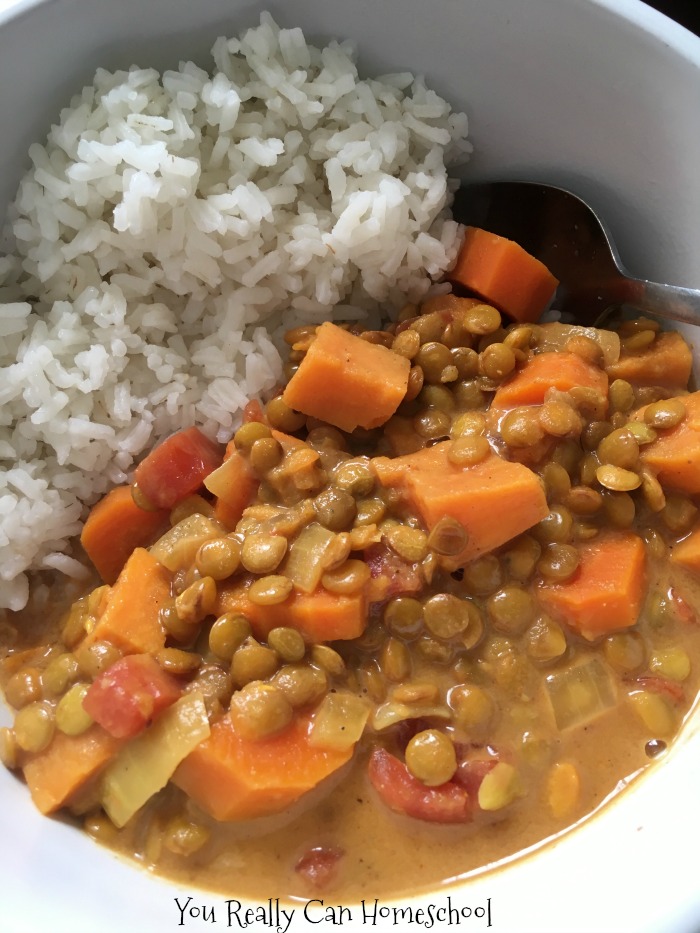 Cooking is a big element of our homeschool. We use cooking to study, math, science, social studies and of course life skills. 🙂 I think it's important to teach kids to cook. We use quite a few resources to support our cooking endeavors. Here's a couple of our favorites.
Raddish Kids.
This is, by far, our favorite subscription box. It comes every month, and each month offers a variety of recipes to cook, but what's even MORE fun is there is a full homeschool curriculum that comes with each box! The lessons take cooking into multiple areas of learning (just like we do!), so it works out really well. You get 3 lessons in each box as well as a fun kitchen tool/gadget.
Go to the homeschool page to see sample lesson plans and
use code x3wpfq to save $10 when you order.
Kids Cook Real Food.
This is a complete cooking course for kids. You'll get complete lesson plans and instructions to work through this course with your kiddos. If you choose to do one lesson a week, you can get email reminders with all the instructions right in the email… makes it super easy. Each class is generally 30 minutes. The knife skills course I mentioned earlier is part of this course. Right now there are TWO FREE BONUS courses when you purchase the main. You'll get both the Instant Pot and Slow Cooker meals kids can make video series. Your kids will learn 5 different meals (for each) they can cook entirely on their own. I personally LOVE IT when Hanna takes over dinner and I just sit and relax. 🙂 For more information about the course and the bonuses click here or the image below.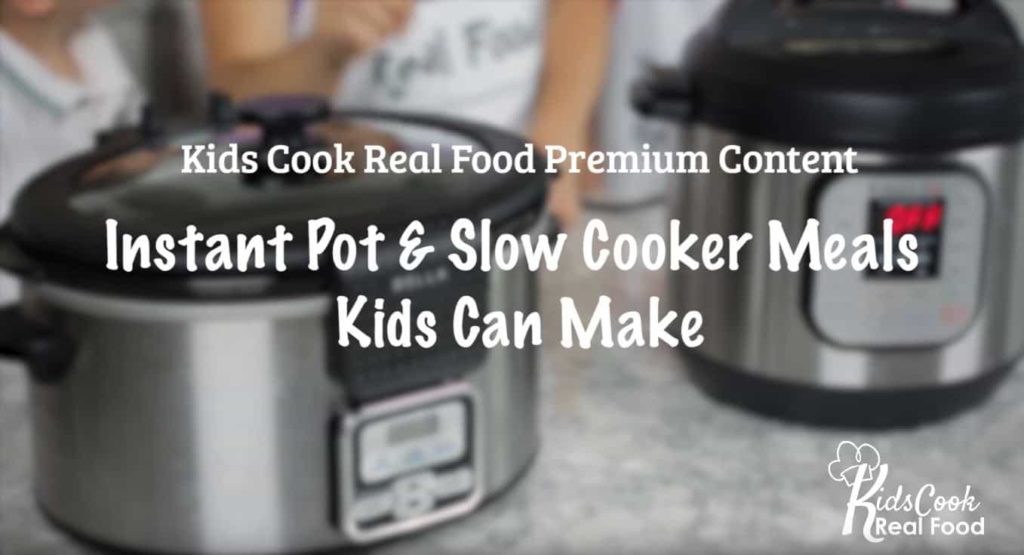 What about you? Is cooking a part of your daily homeschool life? I'd love to hear all about it, join us in my private group for secular, relaxed-eclectic homeschoolers with older kids (8+), and let's chat!