To say the last couple of weeks have been crazy would be an understatement. I decided to paint the living room for Thanksgiving, and it turned into a huge snowball, and now we're basically doing an entire kitchen renovation. (Which is AWESOME. YAY!! and a nightmare. Ugh.) We took the week of Thanksgiving off from formal schooling, we had company and construction going on, but there's always learning happening, I can't even tell you all the measuring we did. 🙂 But this week we made it back to the library and we're back on track. 🙂
You've heard me talk about the big 5th grade picture book experiment and our much loved Living Lit grammar packs. I realized this week, as I was making my library list, we're almost to the end of the curriculum. (YIKES) I emailed the creator and she has no plans to make additional packs. Which sent me into a tailspin and freaking out, because I LOVE them!! However, the more I thought about it, the more I realized there were some things I would change about them. I would add a little more comprehension, a little more writing, a little more critical thinking, a little more connecting the book to the world around us (which means I'd need some different books.) I started looking at 5th grade English/Reading/Writing standards, and lists of award winning picture books for 5th graders and suddenly I had myself a list. (Don't you just love how that happens). My list grew longer and longer, until my list was long enough to cover the rest of this year, and do it all over again NEXT year!!
Woo Hoo!!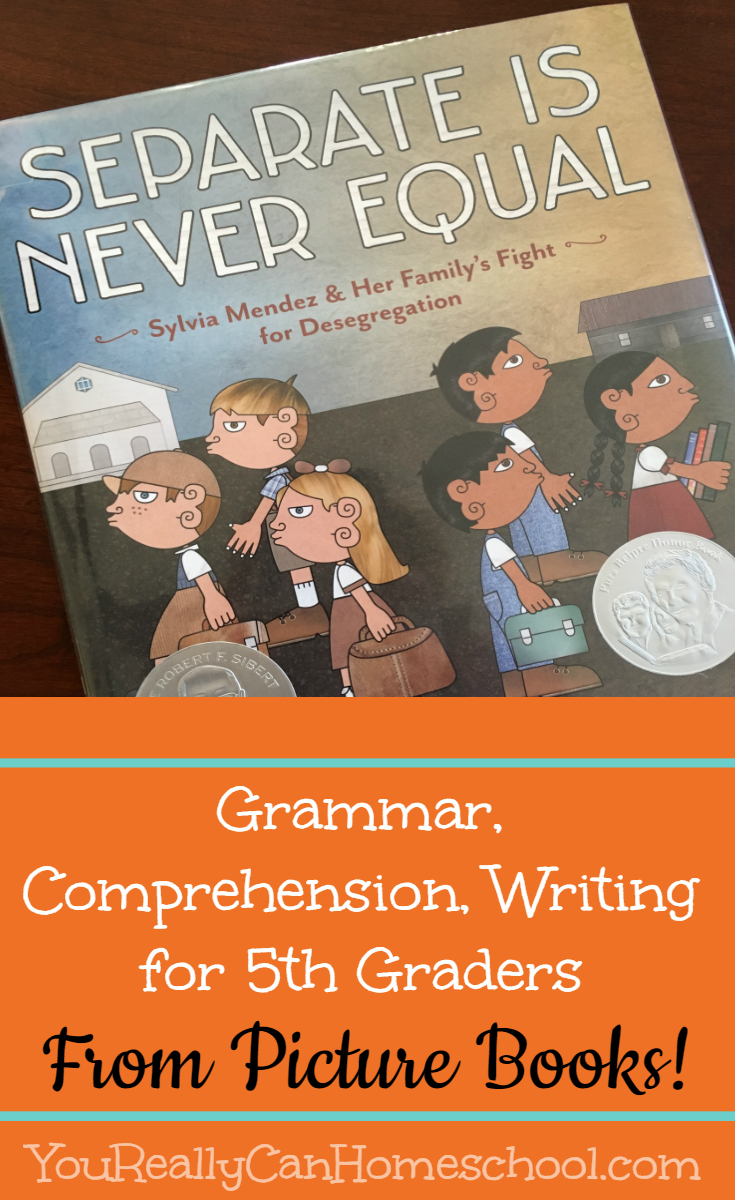 I've got a couple more weeks before our Living Lit packs run out, then we're going to be on our own… and you're welcome to come with me. 😉 Yep, I'm creating my own, what I call, extension packs, because they're not just grammar. They're grammar, and comprehension, and writing, and critical thinking, and connecting ideas, and oh yeah, additional ways to supplement the topic of the book… you know videos 😉 and websites and maybe other books. I do love making a week of things. <3
So… turns out the first book wasn't even on my list.
We were at the library picking up The Hickory Chair for this week's Living Lit pack and I saw it and had to get it. Honestly, though, I thought it was about something totally different. I thought it was going to be about the Brown vs. Board of Education case… but it wasn't. It was about the Mendez vs Westminster case, that desegregated California schools. I hadn't even heard of that case! Which is not surprising since most people, it seems, haven't. It was actually the precursor to the Brown vs. BOE case, some of the same people who fought for the Mendez family were involved in the Brown case as well.
So anyway, this book is fantastic! It tells the story of the Mendez family, touches on racism, and talks about segregation in a way that is completely appropriate for 5th graders, and probably as young as 3rd. Parts of the book are taken directly from the transcripts of the case, which made for some excellent conversation!
The author's notes in the back of the book were excellent, and gave a bigger picture of how this case fit in with the history of desegregation in the US.
I tried to find additional resources to continue studying about this case, but like I said, it's not a very well known case. However, the first thing that popped into my head when we were reading this book, was my mom! She lived in the south during desegregation. I thought it was the perfect opportunity to pull in another generation and get first hand insight into the situation. The kiddo and I are meeting up with her Grandma today to discuss things.
After we finished reading the book Hanna asked me if there were questions for this book. I said, "Nope, we just read that one for fun." but it got me thinking. 😉 And the first Picture Book Extension Pack was born!!
My extension packs are secular, and geared more toward 4th – 6th graders. The books and questions reflect this. The questions give practice for grammar, but also are geared more toward critical thinking. They're still short, one page a day and perfect for new homeschool kids who have lost the loving feeling toward reading (or never had it to begin with). They also include vocabulary words, taken directly from the book. You can use them for spelling, or cursive practice, or even for using the dictionary and learning definitions.
Here is part of the upcoming list of picture books for 5th graders I'll be creating packs for: 
One Boy from Kosovo ~ by Trish Marx
Our 50 States: A Family Adventure Across America ~ Lynne Cherry
Pale Male: Citizen Hawk of NYC ~ Janet Shulman
Rare Treasures: Mary Anning and her Remarkable Discoveries ~ Don Brown
One Well: The Story of Water on Earth ~ Rochelle Strauss
You can see this list is going to produce some really good weeks of learning! Separate Is Never Equal is the first of many packs to come, so grab this one now, just enter your email address below, you'll be on the list to be notified of all new packs as they come out. 🙂