I recently wrote a post about planning. I had this epiphany over the school year, that even as my kiddo and I rebel against a schedule we really do need some sort of framework. Like I said, it's a great post, problem is… all the things!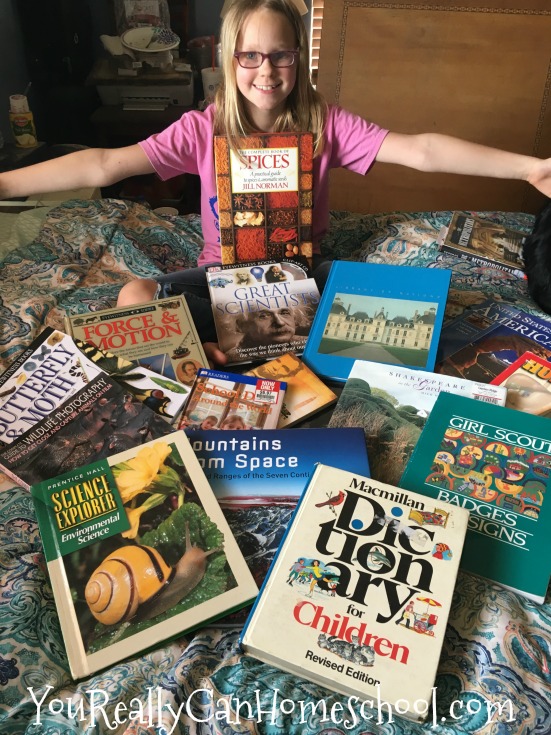 I don't know about you, but as a relaxed eclectic homeschooler, I pick things up EVERYWHERE. We went to the half price bookstore's "bag" sale… you know a whole BAG of books for 7 dollars. (We got 3.) I went to the used homeschool sale. More stuff. Everywhere we go, there's always things I see we'd like to learn about… so I just scoop it up. This is awesome, and it's a huge problem. I now have stacks and stacks of books (which is not a problem to me lol), that haven't been touched and are collecting dust (this is a problem for me.)
I just didn't know how to get them in. Last year I put in a part of the day to "read library books" but it often was skipped over for more "important" things.
Then last week I was listening to Julie Bogart, of Brave Writer. (Which we are thrilled to be starting this year! You can get 40% off Brave Writer here.) She was talking about routine vs. schedule, which totally hit home. She was talking about their morning routine, and what worked for them. It hit like BOOM! I knew it was just what was missing.
It was a super long periscope she did a while back… you can watch it here. It's totally worth listening to!
Here's the basic steps: 
Transition from sleep
Food and Clothes
Many Varied Books
Table Time
Afternoon
It was number 3 that got my attention. Many varied books. This is also known as morning basket, which I have, in the past, completely ignored because it always seemed focused on scriptures and the Bible. I may have thrown the baby out with the bath water on that one.
The more I started thinking about it, the more excited I got. 
The Joy Hakim series History of Us I've been collecting all year?
That Complete Book of Spices I picked up at the book bag sale?
The Women in Science book Hanna specifically asked if we could study for a semester?
BOOM! This is where they all fit in.
I'm an all or nothing thinker. I read one book at a time. It never dawned on me to study many books at once! DUH!!
The phrase many varied books has been turning and turning in my head all week. Hanna's not a huge fan of history. I didn't think I'd ever get her to sit down and read the History of Us… but a chapter a morning, mixed in with famous women in science, and spices? A little Aesops Fables, and the Arrow book we're working through? Oh, heck yes! That could totally work!!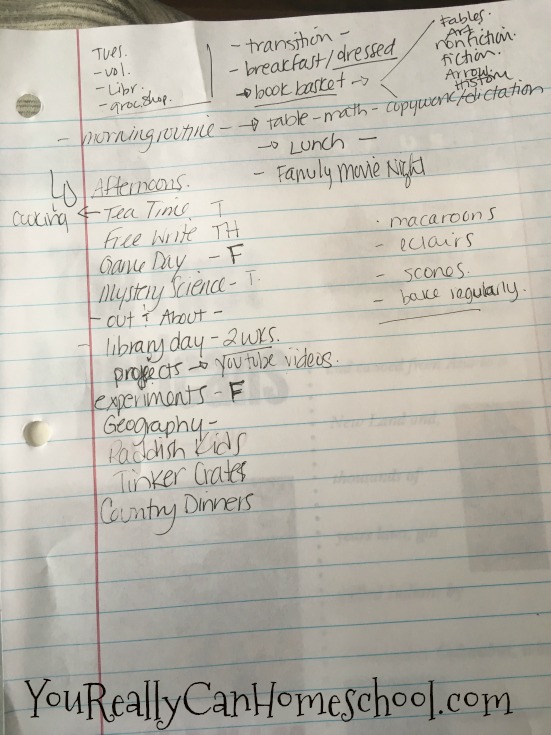 I was getting a little excited by this time, so I pulled out a piece of paper — plain old notebook paper. I started writing. The morning routine. The books for what we're calling "book basket" in the morning. All the things we wanted to do in the afternoons.
Hanna came down and got pretty excited as well. She started adding to the list… most of her additions were things she wanted to cook. 😉 Which is completely all right with me, because we planned cooking into almost every area of our learning for next year.
Poetry Tea Time? We'll need snacks and tea or drinks… maybe from each country we're studying!
Studying Asia? We'll make a complete meal from each country!
Oh, and I've always wanted to make macaroons, eclairs, scones, and oh yeah… Creme Brulee! Hey mom, can I get a kitchen torch! (You can see why I wanted her to have good knife skills! She's got big kitchen plans!)
We ended up with an "afternoon list" a mile long, but at least we got down all the things we've been saying we want to make sure we do. We don't have to do them all, every day… but we've got a whole year. We will definitely fit them in.
So yeah, this is what  our Hoberman Sphere planning looked like in real life. Hanna spent the rest of the evening looking up Indian recipes for breakfast, lunch, dinner, snacks and drinks and trying to figure out if we can get Indian spices in Wichita… if not, we're planning a road trip to OKC, it appears they have a good Indian market. 😀
Did you guess, India is the first Asian country we're studying this year?! I can't wait… apparently neither can she.
I'm feeling so much more excited about the gathering of all.the.things now. I feel like it's not a waste and we'll be able to fit them in and actually use them.
I've read about 478 "homeschool planning" posts and no one has really helped me figure out how to use all.the.things… so I thought I'd share with you how we're doing it… at least in our heads, today. <3
I'd love to hear how you're planning your school year… join the conversation over in my Secular Relaxed Eclectic Homeschooling with Older Kids group. (It's a mouthful… but very supportive and inclusive group!)