Last Summer we tried to build a rocket. We used The STEAM Kids book, which I love. Our rocket was a bust. Turns out our cork had a hole in it, (um, hello, corkscrew) so it wouldn't allow pressure to build, which is what makes the rocket take off. This is why I LOVE science subscription boxes. Everything comes in the box.
We've tried quite a few science box subscriptions, including Groovy Labs in a Box and Steve Spangler Science Club. Tinker Crate, time and again, is our favorite, and it's the one we've stuck with for almost a year now.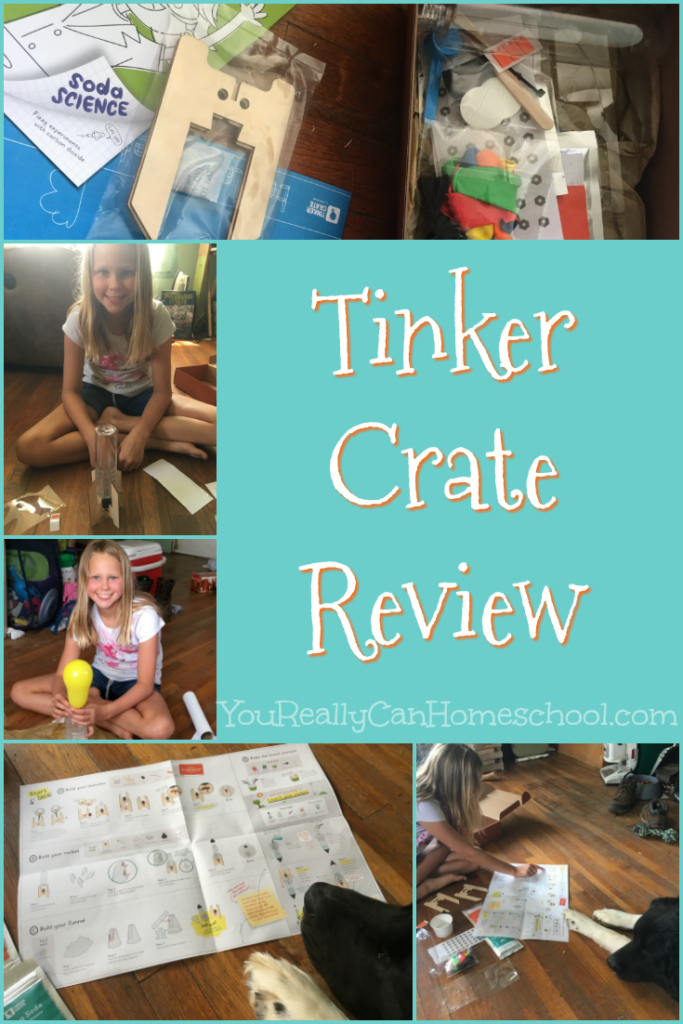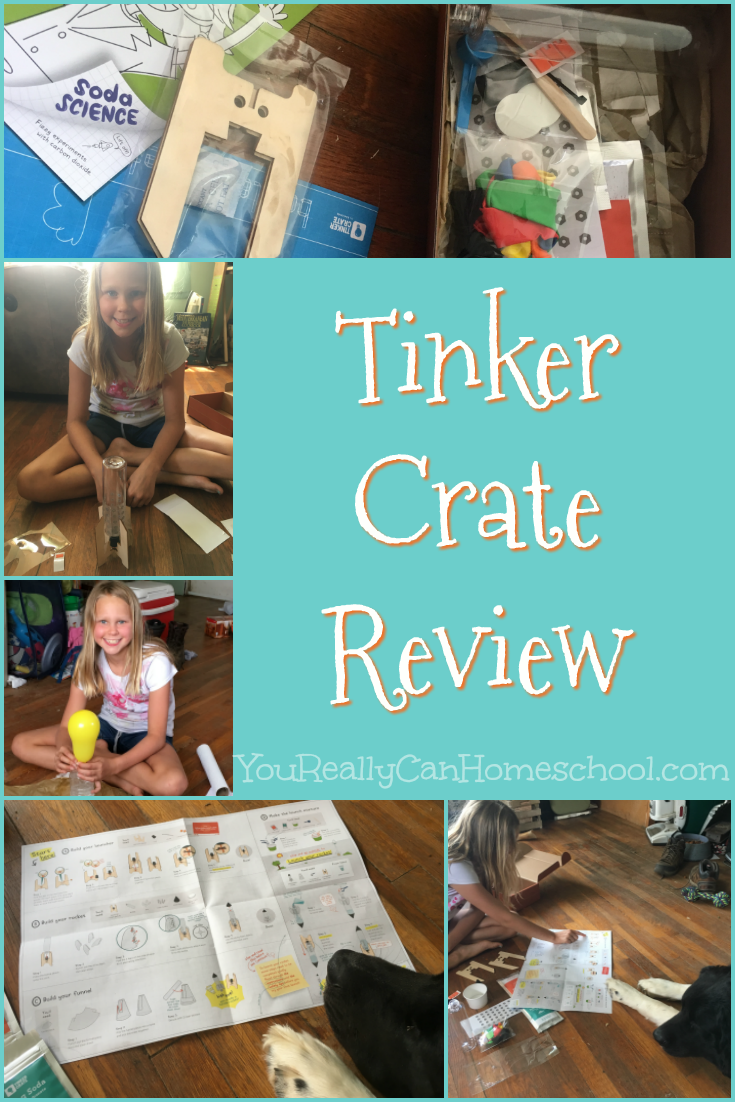 Tinker Crate Review: 
Here's what we love about Tinker Crate.
The boxes are timely. When slime was all the rage last year, guess what showed up in the mail? Yep, a slime Tinker Crate. This month, in fact, on July 5th we got a rocket Tinker Crate. I love that the things that are getting my kiddo's interest show up in the box. It's the perfect way to take our learning deeper.
Everything is in the box. Man, this is probably the BEST part. We finally got a cork with no hole. 🙂 The only thing we needed from home to work through the entire crate was water. It really does include everything. Here's a video of us unboxing one of our Tinker Crates. It will give you an idea of all the things that come in the crate.
There are multiple experiments in every box. It's not a one and done, you get a few experiments, and then  there are always some "additional ideas" included as well.
Hanna loves that the instructions look like blueprints. I like that they are very easy to understand, and she can work through them mostly on her own. 😉 Tinker Crates have really helped her build up her independence and confidence this year. She's a bit of a perfectionist. It shows up in her not wanting to start anything so it doesn't go wrong. With the clear concise directions, she's had many little successes with Tinker Crates which gives her more confidence to tackle bigger things.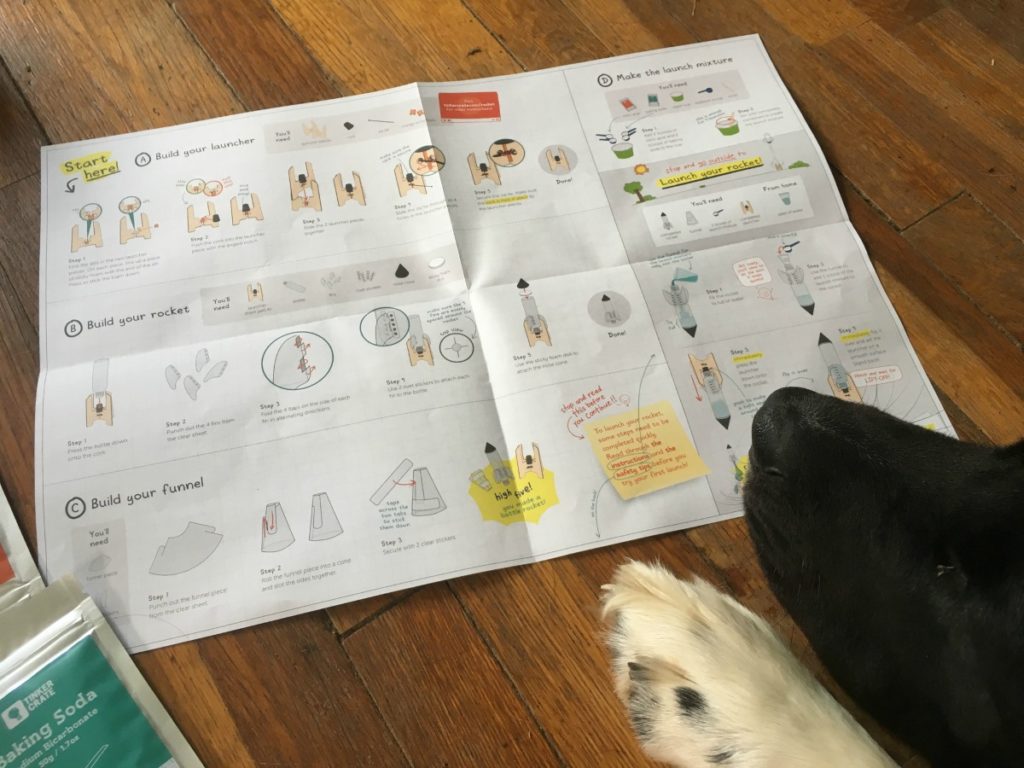 The crate comes with a TinkerZine. It's a magazine that digs a little deeper. It tells you the why and how of the experiments you're working on, and additional related information.
The crate invariably sparks her interest and she comes up with some sort of her own experiment to test out using some of the information that came in the Tinker Crate. This happened yesterday. After blowing up a balloon with a chemical reaction, and setting off a rocket. She decided to use one of the additional balloons to build a balloon zip line. She tested out a variety of questions, including, was the force strong enough to send the balloon up hill, how does the amount you blow up the balloon effect how far the balloon will go. She played around with this experiment for quite a while. If her "science mind" had not been activated by the box, I know she would not have set up this experiment.
All in all, Tinker Crate days are some of our favorite mail days. 🙂 We like them so much we've penciled them into our 6th grade homeschool curriculum for this year.
When I asked Hanna what her favorite crate has been she said this rocket one… then she remembered the geometric drawing machine box, and said it was a tie. 🙂
Tinker Crates makes it easy to fit your needs (and budget). You have multiple options when it comes to ordering. You can get a one off gift box, a monthly subscription, 3 month, 6 month and annual subscriptions. We do the 6 month subscription at our house, because I hate monthly payments. 😀 You also get a discount when you get the 6 and 12 month subscription plans. Tinker Crate pricing is competitive with other science subscription boxes, and actually a bit cheaper than Steve Spangler Science Club when you go with the 6 or 12 month subscription offer. It is substantially cheaper than Groovy Labs in a Box no matter which option you choose.
Test out the Tinker Crate science box subscription today!