It seems today you can have just about anything mailed to you on a monthly basis, from fun activities for kids, science projects, a trip around the world from your kitchen table, even healthy organic snacks can now be found in a snack subscription box service.
That's exactly what Urthbox is; a healthy snack subscription box.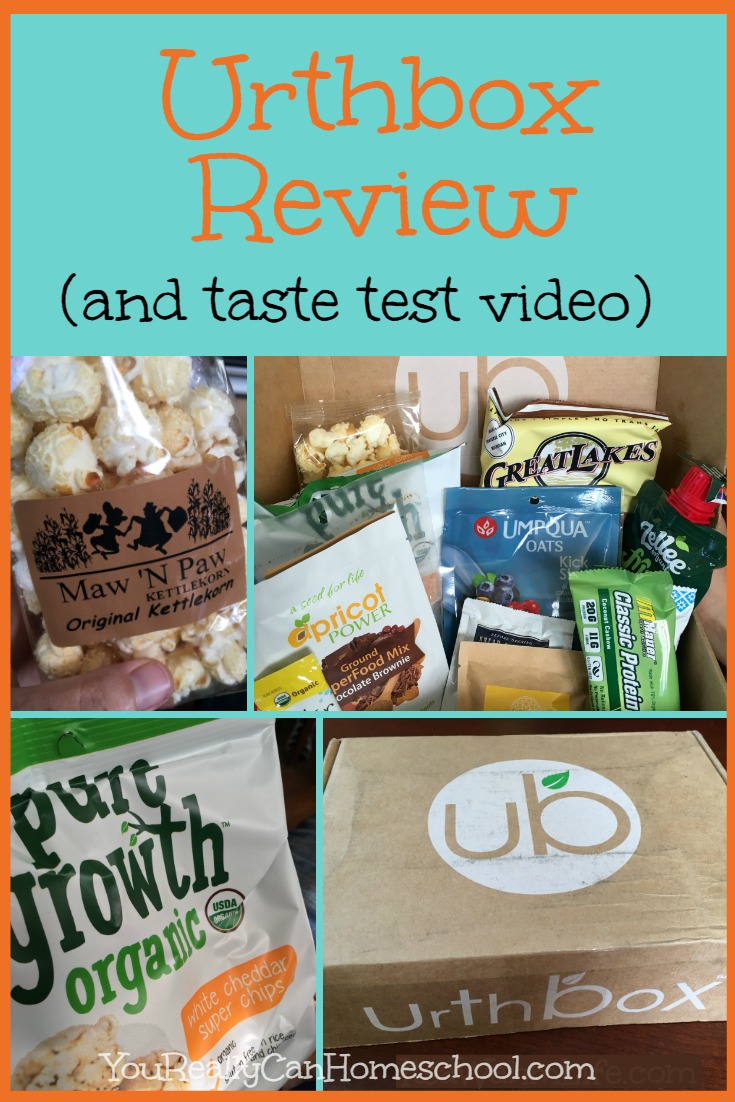 We received a complimentary Urthbox in the mail yesterday in exchange for an honest review, and believe me, all the opinions are ours. (Although Hanna is still learning the difference between "good video" and an honest review… but we'll get to that in a minute).
The Urthbox arrived at our doorstep intact. (We've had  other subscription boxes come a little bit crushed). When we opened the box we were met with a box chock full of snacks. As we began pulling things out I was a little surprised by just how many full size snacks were packed into the box. I liked that there were a variety of different kinds of snacks, there was popcorn, and chips, but there was also ancient grain bars, and honey peanut butter (which we mistook for Honey in the video… sorry about that!), even oatmeal, and superfood mix to add to a smoothie (or muffins and more). There was a good mix of crunchy snacks, and chewy snacks, sweet and savory. This box was really well thought out.
This week we've been working our way through our Afghanistan Unit Study. When we sat down to watch a documentary yesterday we pulled out the Kettle Corn Popcorn and the Pure Growth White Cheddar Super Chips to snack on while we watched. I make kettle corn at home from scratch regularly, so I didn't know what we'd think of this packaged popcorn, but it was really good. It had a good mix of salty and sweet, it was crunchy, but light and airy. It was quite good.
The real surprise came with the Super Chips. I'm going to be honest, I never would have bought these at the store. These healthy, organic, made of kinda weird things kind of snacks can go either way, and I probably wouldn't choose to spend my money to take a chance… however… they were delicious. Absolutely delicious. Light, airy, with a ton of flavor, super crispy. I think that's probably the best thing about this box. You pay a really, really reasonable price to taste test things you may not normally buy, or heck in my case, living in the middle of nowhere, may never have the chance to even see!
Once you've tasted your snacks you have the opportunity to purchase more of the things you like at a member's discount. Plus when you order more of what you like, you earn loyalty points, which turn into a deeper discount on future purchases.
You can choose from 4 different boxes, gluten free, diet, classic, and vegan… all the boxes are 100% GMO free. You can also choose the size of your box and how many snacks you receive each month. Prices start as low as $12.99 and shipping in the US if free.
My daughter is a huge fan of those unboxing and taste test videos on Youtube, and has been begging to do the "Pringles challenge" for a long time now. When she saw this box, she immediately started begging to do a taste test video for you. So we did. (and how much better are healthy snacks to taste test than Pringles!?) 🙂 We had some discussions about how long she should spend introducing and sharing each product in the box… she told me the way I wanted to do it was "not good video". YIKES. Even though I convinced her not to take 5 minutes on each product… well, it's not a 3 minute video. 😉
You will notice, if you made it all the way through the video, that Hanna shouted out, YUM that's delicious, or something like that after tasting the Protein bar. She did not think this protein bar was delicious. We had a long talk afterwards about "good video" vs. "honest review". The protein bar tastes like a protein bar. When you're eating a protein bar you eat it for the 20g of protein in this little tiny bar… it does that quite well, especially considering how hard it is to find one that is healthy.
We haven't tested out all of our snacks yet, but I would love to order more of the super chips, and the ancient grains bar. They were my favorites by far. Hanna thought the chips and the popcorn were pretty awesome too.
If you're looking for a snack subscription box, and you're looking for healthy snacks, this is definitely a great box to choose. I love that you can order more of what you like at a discount, and that I had never even seen ONE of these products before! What a way to open up our world, and our ability to snack in a healthy way.
Go ahead click here and grab your first box.