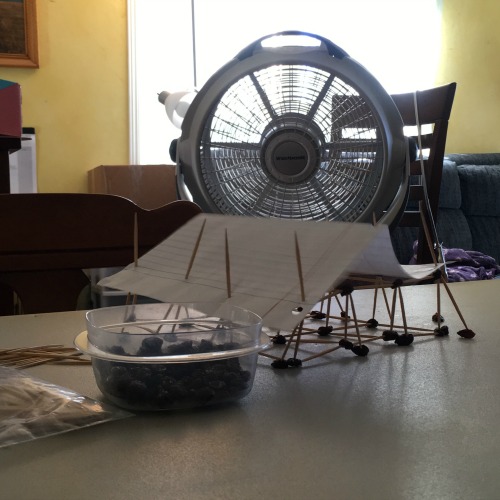 Last week we tried something new. An impromptu stem challenge. 🙂 Hanna wanted to do more science, so I looked through our STEAM Kids book and found a project she could work on independently. (Have I mentioned how much I love our STEAM Kids book, and now there's another STEAM Powered Kids book all about the senses?!)
Anyway, she said she wanted to build something, so I looked through the build section of the book and came up with an engineering project. We were out of mini marshmallows, but did have raisins still in the house (from making Kabuli Palau during our Afghanistan study!). I gave her toothpicks and raisins and an invitation to build something.
She started building a house. She had some problems with her house. The walls wouldn't stay up for one. Which led to some investigating and testing of ideas on how to get the walls standing. She ended up going with angled supports on the outside of the structure. 🙂
It was fun and all, but it was missing something.
So like any fan of Duff Til Dawn would, I threw in a twist at the end. 🙂
I gave her a few sheets of notebook paper, and a hurricane.
Suddenly, the way she was thinking about her house completely changed. It wasn't just a little, hey let's connect the pieces, it became… omg is this thing structurally sound?! Her thinking became deeper, her decisions more focused.
She finally decided the house was ready for testing.
We put the fan on a chair and turned it on her house.
Her house leaned a little, but didn't fall, and the roof remained intact. #WIN!
She was pretty excited that her house had stayed intact. We started talking about other natural disasters houses must withstand, and got to talking about building a house to withstand a flood. (We've had flooding here lately).
She brainstormed ideas, and did some research. She realized a floating house might not be the BEST way for a house to withstand a flood. 😉  We haven't built our flood house yet, but it's on our minds and comes up in conversation. We'll get to it when we're inspired I'm sure. You could also create a stem challenge for a house to withstand an earthquake, or a tornado, or a fire! There are so many ways to add just an extra "challenge" element to basic stem activities, and get our kids thinking bigger and in ways that are relevant to the world around them.
I am terrible about coming up with the "ideas". I can do the challenge add-ons lol. That's why I absolutely love books like Steam Kids and Steam Powered Kids. They do all the project idea work, and I get to add to it. 🙂 Our science activities wouldn't be as fun (and thorough) without them!