When we started homeschooling this year, one of my biggest concerns was science. My kiddo is a science fanatic, me, not so much! I was a little worried about being able to have enough science around for her to do and stay happy. I found Mystery Science which we do weekly and absolutely LOVE, but once a week science just isn't going to cut it around here. We need more like DAILY science, HA twice a day science is more like it.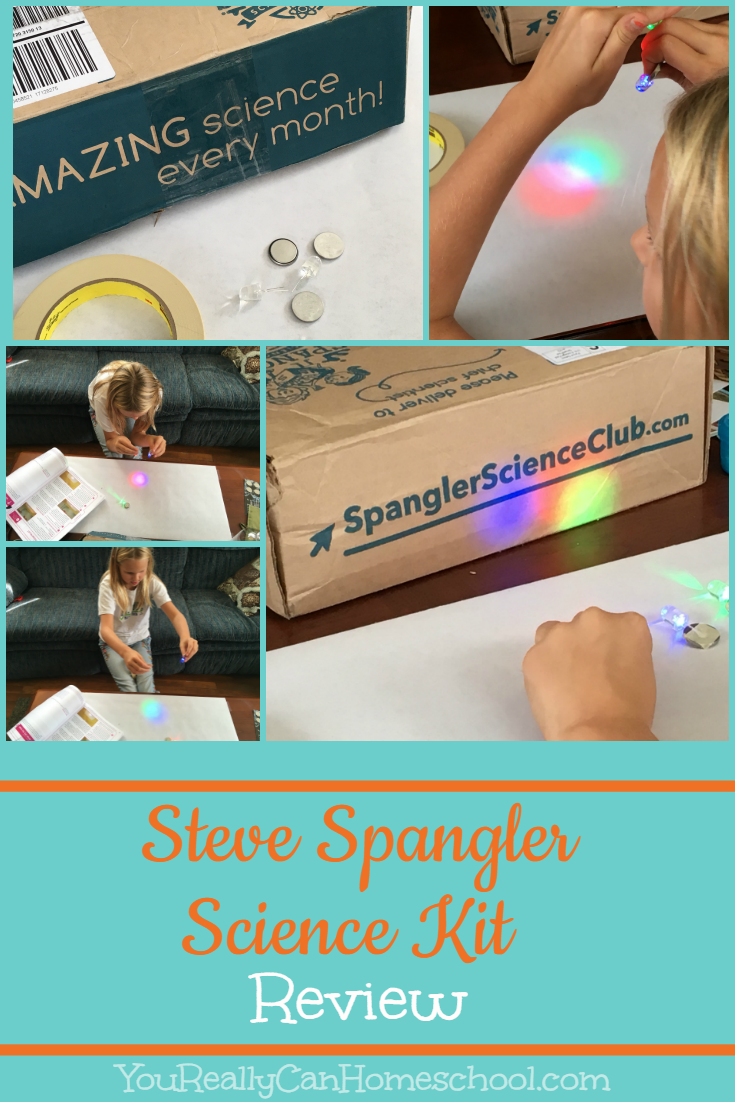 I started looking around at science subscription boxes to add to our science time, and was happy to see there are quite a few. We are trying some of them out and we'll let you know what we think. Steve Spangler Science Club is the first science subscription box we've received. They sent us a free box to test out, and tell you what we thought. While the box was free, our opinions (as always) are our own.
When our box reached the door we were a little bummed because it had been crushed in the mail. 🙁 Unfortunately one of the liter bottles inside had been crushed, but everything else was intact. It was easy enough to replace the bottle with a liter water bottle we had around the house, so really, no biggie.
When we finally dug in we realized it was a "circuit" box. I'm gonna be honest here… not my kiddo's favorite topic, and I was a little nervous too. I don't know anything about circuits lol. But here's where Steve Spangler did a fantastic job on this box. He sends a booklet for the student, describing all the experiments, and the steps involved, AND (and this is a HUGE DEAL for me) he sends a booklet for the science helper!!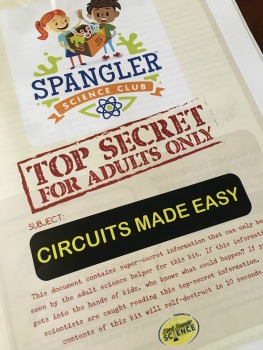 The Science helper booklet explains everything to the adult, not just "how to do the experiment" but all the science behind it, why it does what it does. It also answers questions your kiddo is most likely to ask when doing the experiment. In fact, it gives you a couple "prompts" to get them asking some questions (that you now know the answers to!). It was such a huge relief to read through this book, and realize I had the answers I needed, and that I wasn't going to have to say…"Hmmm, I don't know, let's look that up." Which quite frankly starts making me feel a little bit dumb after a while lol. So big win on the top secret book for adults only in the box.
I also love the lighthearted tone of Steven Spangler. If you've ever watched his YouTube videos or his new show DIY Sci you'll feel exactly like you're watching him through the box. It's written in a fun way, that is perfectly Steve Spangler. Until we started homeschooling, I'd never even heard of Steve Spangler, but now he's one of my "go to" science guys.
So, on to the experiment. 🙂
Our Favorite Steve Spangler Science Club Circuit Experiment
We are still working our way through this box. It comes with 7 experiments in the box. As well as everything you need to do the experiments. There are a few things you'll need to grab from home, but it's stuff like a ruler, pencil, water etc, simple things you have at home.
The booklet that comes for your student is written up like a lab report. It has all the instructions for the experiment, and it also has space for observations, and questions about the experiment for them to answer, and of course space for that.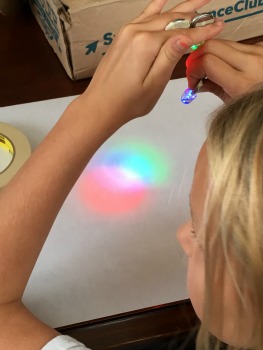 Our favorite part so far, has been creating "throwies", which are LED lights and then mixing color with the LEDs. Creating the throwies taught her about positive and negative charges and the flow of a circuit. It also clarified this is why you have to put batteries in your devices a specific way.
Once we'd made blue, red and green throwies, she started mixing color. She followed the experiment as written in the book, and then begin investigating her own ideas (which I love to see happen). She tested mixing color on white paper, on the brown box, mixing far away, and up close. It was really interesting, and she was quite engaged. Then the last part of the experiment was to get a "surprise" color in the middle of the mix. It took her a while but when she finally got it to work she was pretty excited!
All in all this was a really good science box. I love how many experiments there are. It's enough to do a couple a week and make it through the month, until your next box comes. I think she'll be even more excited to get another box that's more "chemisty". 🙂 She does like to make reactions lol. <3
If you're looking for a science subscription box for your homeschool, this is a good one. It's straight up science. At least 7 experiments a month. Everything you need is contained in the box. It comes with a very thorough and easy to understand guidebook for your student, and the magical (well, for me) Secret adult book to make it easy for you to help your small scientist complete the experiments and answer their questions.
How do you get started?
Join the club! When you join the Steve Spangler Science Club you'll receive a box automatically every month. There are a few different subscription options, monthly, 3 months, and 12 month. The prices vary between the subscriptions, getting lower the longer your subscription ~ which is nice. You end up getting 2 free kits with the 12 month subscription plan. (and 12 awesome science kits). 😀
Test out a box. You can also buy one kit at a time. There's quite a few kits to choose from. The benefit of  buying one kit for your first one, is you get to pick, and you can choose something your kiddo is super interested in.
Get in the Halloween Spirit. Steve Spangler offers a whole Halloween store, including a Ghost Science kit. Test out a Halloween box and see if Steve Spangler is your style, then you can order more boxes, or join the club.
Order your first box today and get 40% off! Just use the code "Spangler16AF"