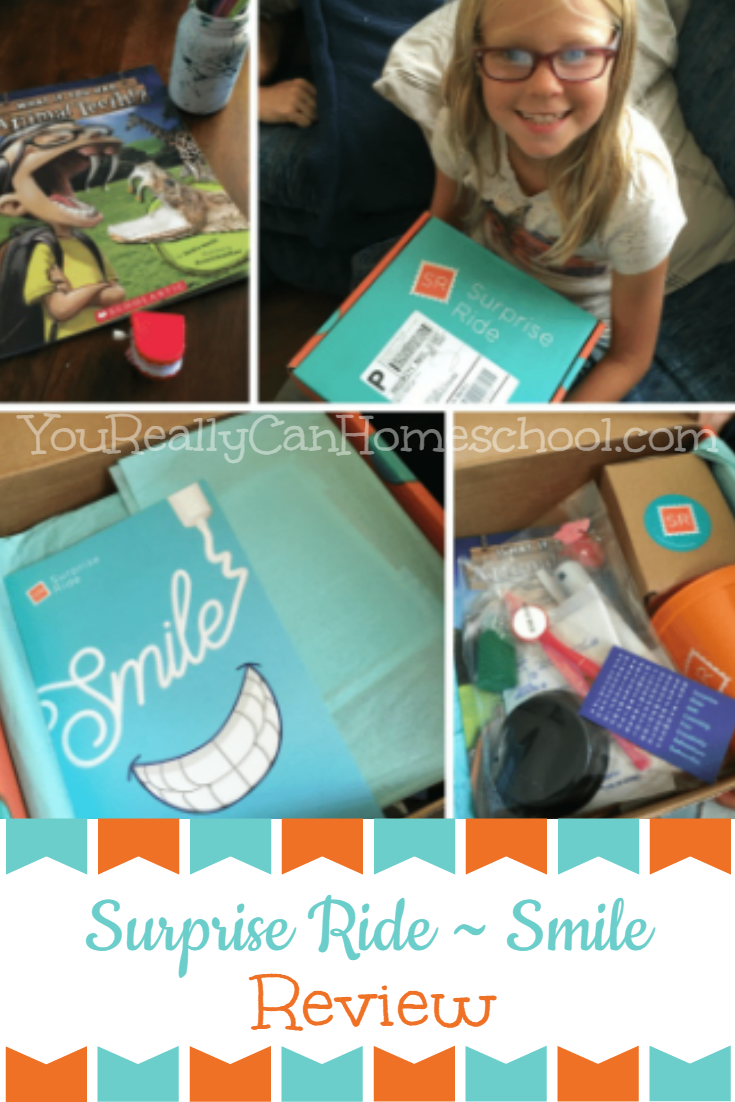 This is our first year homeschooling. We've been at it a almost 3 weeks now. As we sat down the first week, Unit Studies in hand, I quickly realized we were going to need a little more deschooling time. I made the decision to try a bunch of different things to see what sparked interest, and then go from there. Subscription boxes seemed like a perfect fit for this plan. 🙂 Enter Surprise Ride. 
What is Surprise Ride?
Surprise Ride is a monthly  themed box that comes directly to your door. Inside you'll find 2 hands on activities related to the theme of the month, as well as a book and a snack, and a couple extra fun things… and what I loved most… everything you need to do everything in the box. I mean everything. I received a free box to review for this blog, and of course all opinions are mine (and Hanna's).
Our box was on the theme of teeth. An interesting theme, and not exactly what I'd expected, but we ended up really enjoying it, and learned a few things along the way.
What Comes in a Surprise Ride Box?
This is probably my favorite thing about this service, everything you need is in the box, even little extras to make it even easier. For example, one of our activities was to use a toothbrush to splatter paint a jar. Of course the paint, and toothbrush, and jar were included, but in addition to that, they also sent a nice plastic apron to cover Hanna's clothes. Totally unexpected, but a little touch that really increased the value in my eyes.
I could tell immediately Surprise Ride was run by moms.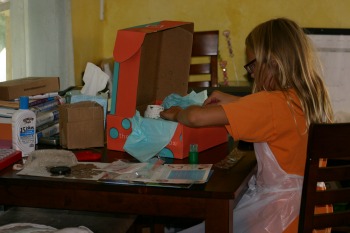 As Hanna was getting ready to splatter paint with the toothbrush, I looked around my table and thought, "oh no" there's going to be green paint everywhere!! I looked at the box, and all the tissue paper it came with and told her to stick the jar in the box and spread out some tissue paper… just as she read the exact same thing off the instruction card included in the box. 🙂 Mom brain. It worked very well, and there was only a couple speckles of paint outside the box, which came up easily with a little soap and water.
Oh… I forgot about the walking wind up teeth. 🙂 It was the first thing Hanna grabbed out of the box. She'd never seen these kind of teeth before and thought they were "creepy" but fantastic, and proceeded to wind them up and let them chatter for way longer than I would have hoped for lol, but it was nice to see her enjoy the first thing out of the box.
After we finished painting Hanna sat down with the book, and the snack. The snack in our box happened to be lolipops. I was a little annoyed, but then I looked and saw they were sugar free, so I was ok with that. Unfortunately they were a little lot melted. They were stuck to each other, and super sticky. Hanna wouldn't let it go though. She had to have one of those lolipops! We finally got them separated and they were still quite delicious. <3 Her favorite was the green apple, which she told me she could not tell didn't have any sugar in it… it tasted like it did. 🙂 The book was funny, really well illustrated, and had a ton of great facts about animals and teeth. I love books like that, it seems she remembers things from them.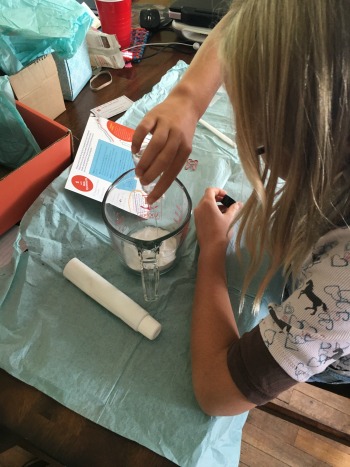 The next day Hanna was eager to make toothpaste, which was the other hands on activity in the Surprise Ride box. Once again, they thought of everything, the only thing I had to get from my kitchen was something to mix everything in. The instructions were well laid out, easy for her to read and understand. The spoon they sent to stir could have been a little more sturdy, but it did work. I was concerned about actually getting the toothpaste into the tube. We've done other activities where we've had to put stuff into a tube and it didn't go well. 🙁 However, the spoon they provided fit perfectly into the tube, and it all worked out quite well. As soon as we got the tube rolled and held in place by a very cute tooth shaped paper clip Hanna made us all go brush our teeth. I'm not going to tell you she loved the toothpaste… she's kind of a fruity flavored toothpaste girl, and this was not that. 🙂 But it did work well, and I'll probably use it, because I love the idea of a simple toothpaste without added extras.
Surprise Ride Review
So what did we think?
I thought the box was remarkably well put together, well thought out, an incredibly good value for the price.
Hanna thought, no, Hanna begged to start getting these every month. 🙂 So I guess that's a thumbs up from her.
Are you ready to take your first surprise ride?
Click "JOIN TODAY" and get $5 off your subscription!