If you're a parent of a tween girl, who has access to the internet, chances are you've heard (and been annoyed by) these "unboxing videos". If you're lucky enough to never have heard of them… they are literally videos of people unboxing, opening and playing with toys, for HOURS. It seems all the adults I've talked to find them absolutely absurd… but the KIDS? They LOVE them! My kiddo is no exception. She watches unboxing videos all.the.time. (We used to be so lucky… we didn't have cable so she never knew about the latest and greatest toys she "had" to have lol. But alas, Youtube went and ruined it for me.) She's unboxing obsessed.
I hear people talking all the time about their kid's screen time, and how they can get them away from those dang unboxing videos. I thought I'd share the story of our last Tuesday to give you a glimmer of hope that it will be ok. Learning is everywhere, even in an unboxing video obsession. 😀
Tuesdays are our most relaxed day. We do a lot of things out of the house and very little "book work", but there's always plenty of learning going on.
Here's how our last Tuesday went.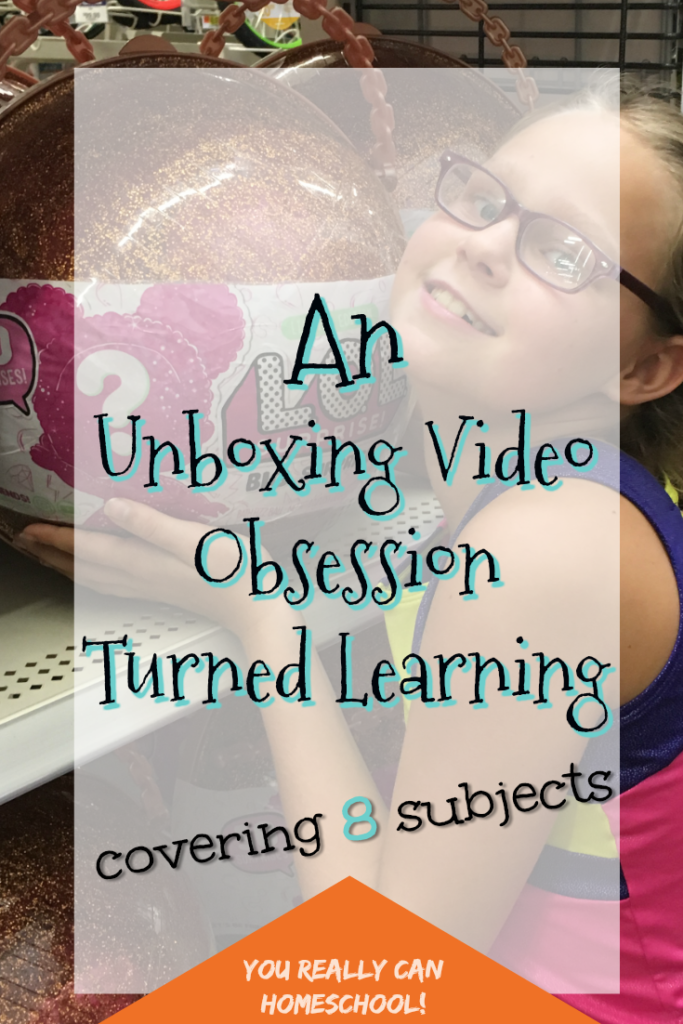 Volunteering at the local Humane Society.  On the way we listened to our current audio book.
Egg McMuffins afterward, where we also do meal planning for the week. We use my "bullet journal" to do our meal planning so it never gets lost or misplaced.
Off to the grocery store.
Grocery shopping, and somehow I was dragged to the toy aisle.
Hanna's been coveting the HUGE LOL , from the unboxing videos she's been watching. It just came out (you know, just in time for the holidays lol) and she really, really, really wanted to see it in real life. Sure enough, there it was in all its glory on the end cap. 🙂
Once she'd finished drooling over that one, and debated whether to spend her money on it or take a chance that someone might get it for her for Christmas, she strolled over to the smaller LOLs. If you are unfamiliar with evil genius that are LOL… here's the lowdown. They are plastic balls, that you unwrap one layer at a time. Each layer contains a small surprise. In the middle there is a doll. The gifts on the outer layers are accessories and hints as to what doll you're getting in the middle.
So, she debated, and debated and finally decided to spend her own money to get one "big sister" and one "little sister" LOL.
We finished up our grocery shopping.
Got home, put groceries away, and Hanna raced up to her room with her new LOLs. 🙂
She then decided to do an unboxing video of her own for her youtube channel. Yes, she's part of the unboxing "problem". 🙂 She worked on the set up of the video so everyone could see what she was doing, as well as getting the lighting right. She chatted as she unwrapped the LOLs and got super excited because she actually got the doll she was hoping she'd get. (Which doesn't happen very often… or maybe never lol).
After she finished her video, she edited the videos, putting the different clips together to make a full video.
She uploaded the video to YT. She worked on a description that had good keywords and tags to help drive traffic to her channel. She also made sure she'd used the correct spelling of "surprise", and figured out whether LOLs had an apostrophe in it or not. (Plural vs possessive)
Her video was over 20 minutes long, so it took a while. While it was uploading she played with the toys that came out of her LOLs.
She had tons of fun making her doll change color in ice water. Which got us curious as to how that happens!
When she was finally done with the video she went out and jumped on the trampoline… it may have included making music.ly videos. 😉
So that was our Tuesday.
It looks like a lot of unboxing obsession and not so much learning huh?
Let's break it down.
Math:  Identifying our grocery budget, and buying groceries to fit our budget. Checking for better deals using the tags in the store. Figuring out how much she had to spend and how many LOLs she could get with her money. She went to a separate aisle and checked out by herself.
Art: She thought about lighting, and position, and created and edited the whole video herself.
Public speaking: She talked for 20 minutes lol
Grammar: We discussed the use of the apostrophe in LOLs whether it was possessive or plural in the description of her video.
Spelling: The word surprise. She knew it but wanted to make sure she had it spelled correctly.
Writing: She put together the description for her video to make it enticing to get people to click the video. She also wrote the entire menu and shopping list.
Marketing: How to use appropriate tags to grow your YT channel
Science: She ended up getting a color changing doll which she was very excited about… we got curious about how they change colors. 
😀 Did a little digging. 
Reading: We listened to the Greenglass House on the way to volunteer.
Life Skills: Compassion, dependability, doing things you don't like to do (mopping messy cages, getting up early to get there on time), giving and generosity… volunteering is awesome. <3
PE: Jumping on the trampoline.
This is what makes it hilarious.
At the end of the day she said to me, "Mom, I'm sorry we didn't do any school today." 😀
It's easy to get freaked out over our kiddo's current obsession, especially when it's something so seemingly irrelevant to real life as unboxing videos.  However, in all actuality there's tons of learning going on. Take heart relaxed homeschooling mamas… there really is learning going on. You can't stop it.  Even an unboxing video obsession created learning in over 8 subjects on this one day. I'd say that's pretty awesome. <3
So wherever you come down on the unboxing video debate if you are looking for more support in this relaxed eclectic homeschool journey with your older kids… join my private facebook group. We'd love to have you. 🙂