In an effort to help my reluctant reader enjoy reading more we've embarked on what I like to call the Big Picture Book Experiment. Before we go to the library I research some picture books that are geared toward older elementary readers. We now base our language arts program on picture books. It's helping make reading fun again, and we're really enjoying it.
Well, in my researching upper elementary picture books, I came across Girls Think of Everything. I grabbed it at the library last time we were there, and just left it in the back seat of the car. Next thing I know, my kiddo is reading out of it and we are learning about some amazing women inventors. What makes it even better is many of these amazing inventions happened by accident via a mistake, so we've had some great talks about mistakes being a good thing too.
Who Invented Chocolate Chip Cookies?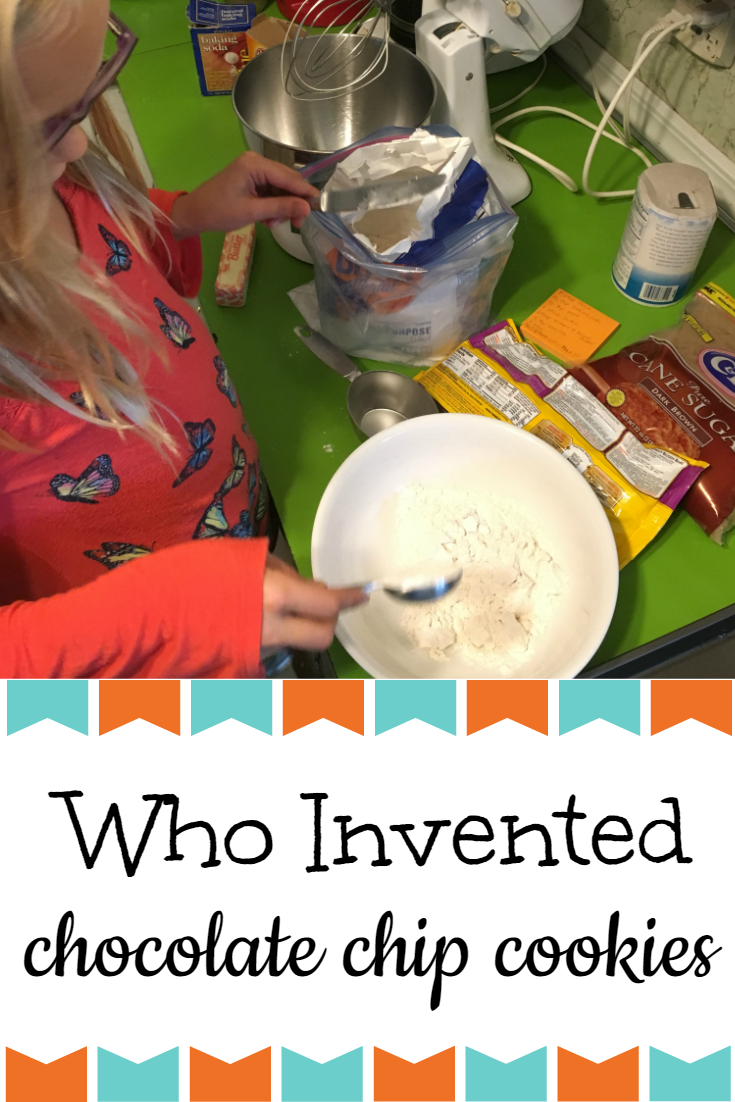 This is one of the first stories in the book. Ruth Wakefield, opened a restaurant in the 1930's. Her restaurant, the Toll House Inn, featured chocolate butter drop cookies. Ruth was a super busy woman, doing all the cooking, cleaning, serving and running of her restaurant. One day she didn't have time to melt the chocolate for her cookies, so she just chopped it up and threw it in. She assumed the chocolate would melt and everything would be fine, but no. The chunks stayed in place, and the chocolate chip cookie was born.
The story continues as her cookies become even more popular.  A local chocolate manufacturer notices a huge uptick in sales of chocolate. In an effort to make it easier to add the chocolate to cookies, they begin scoring the chocolate to make it easier to break. They then decide to make it even easier for bakers and they create the chocolate morsel aka chocolate chip. They connect with Ruth Wakefield, and ask if they can use her recipe on their packaging, as well as the name of her restaurant, and now we have Toll House Morsels. For her trouble Ruth was given free chocolate chips for the rest of her life.
Now, there's an interesting conversation to have with your kiddo, while you're driving in the car!
Did Ruth Wakefield get a good deal, getting free chocolate chips for life?
Keep in mind, nearly 100 million bags of chocolate chips are sold every year, when you're thinking about the answer. 😉 That's enough to make 5 Billion cookies a year, or 14 Million cookies a DAY!!
We've also learned about many other women inventors from this fantastic book. Each of the stories are short, and to the point, fairly easy to understand. They offer little "side boxes" with facts or additional information. My daughter, the reluctant reader, reads this book out loud every time we are in the car now, we're really enjoying it together.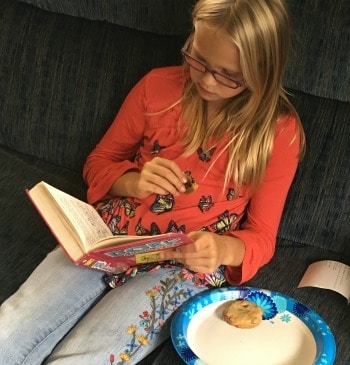 To celebrate Ruth Wakefield, and the other women inventors we decided to make chocolate chip cookies. 🙂 We used Ruth's recipe on the chocolate chip bag. Her recipe make 5 dozen. (This mama does NOT need 5 dozen of her favorite cookies laying around calling her name.) We decided to half the recipe ~ which was interesting because many of the ingredients call for 3/4 cup. (Gotta love the math going on there, right?!)
The cookies came out delicious! And what a lovely treat to sit down to read a book with warm chocolate chip cookies and milk. Thank you Ruth Wakefield!