Before we started homeschooling my mom gifted Hanna a microscope one year. As I was researching homeschooling, and putting together all the curriculum we were going to use I found this awesome unit study for the microscope. My kiddo LOVES the microscope. I thought we'd be golden. <3 HA. Not so much.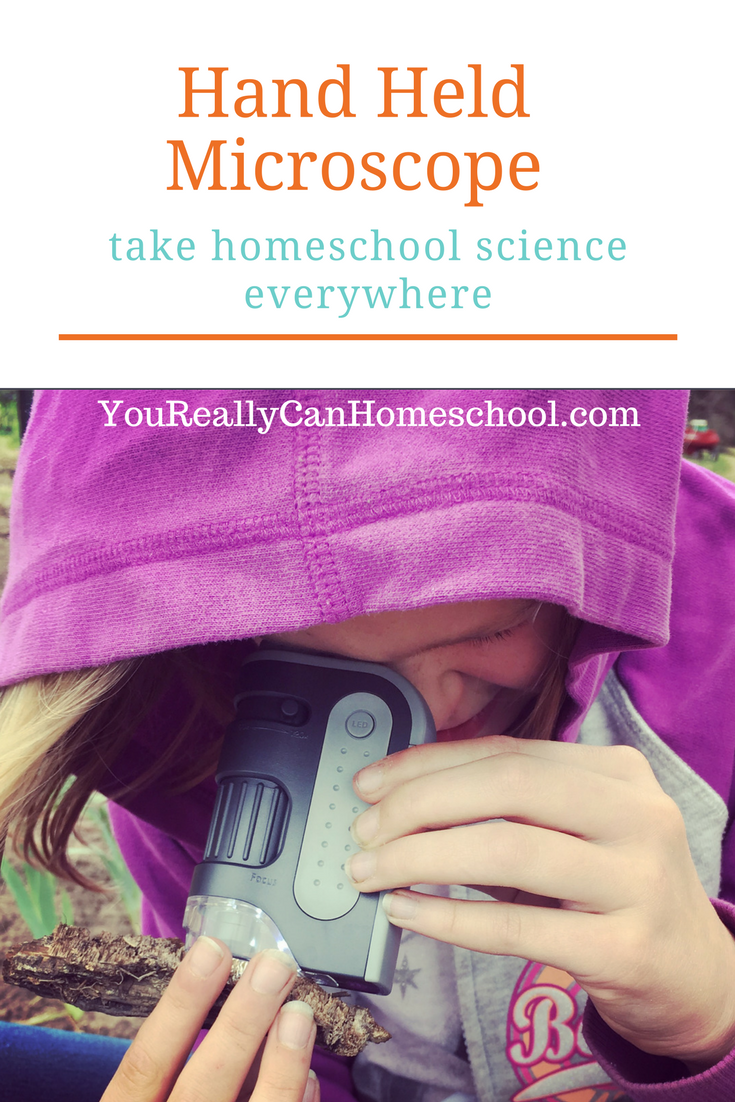 The first day of "school" we pulled out the microscope, and our unit study and she was like. Oh. Hell. No. She did the first worksheet, but that's about as far as we got. Well, I let go of the Unit Study (maybe next year she'll be ready for more "schooly" type work), but we kept trying to use the microscope. We tried to look at water from our pool (after it sat around for a while). We tried to look at blood (after I cut my finger cooking dinner one night) and so many other things… but we could never get the dang thing to work right!! (I'm sure it was user error lol).
We kind of gave up on the microscope for a while. But we'd see all these things while we were out and about, and we really WANTED to be able to look at it under a microscope.
One day I was in a group and someone mentioned this little hand held microscope they've been using and how awesome it was. It was only a few bucks, so I decided to just go for it.
It came today and WOW!!! How much fun we're having. Unlike our full size microscope, we were able to quickly and easily bring items into focus. The level of magnification from this small device is quite impressive. There's a small hole on the top, where you can slide a lanyard through, so you can easily take this mini microscope with you everywhere!!
A few days ago we found this piece of wood that was very unusual. We knew our microscope was coming so we saved it. As soon as our mini microscope was unwrapped we were outside looking at that piece of wood. It didn't stop there. We recently trimmed some trees, and found a large branch was hallow, but there was a lot of degraded material still inside the branch. I wanted to see what that looked like. 🙂 In the process of scooping some out we found this clear little worm, and WOW!! That was cool. You could see it moving, and all the inside parts. We looked at wood, at grass, at dandelions. We looked at dirt, and bark, and the tree branch we'd just cut.
The more things she looked at the more conclusions she started coming to. She was able to see similarities between different types of items, and noticed many organic items looked like "crystals".
When we came inside the looking didn't stop, she looked at the floor, our shoes, her shirt, paper, and everything else she could put that mini microscope on. I thought she'd tire of it, but it was still in her hand at bedtime. She'd help gather sticks while we were chipping the trimmed branches and had a scratch on her leg, which I found her looking at through the microscope. 🙂 I found it interesting, her descriptions became quite vivid the more things she looked at.
She is a science crazy kid. I was pretty disappointed when my attempts at organized homeschool science failed, but I have realized, more and more this year, that science is everywhere. With the right tools, like this hand held microscope, you can literally do science everywhere. Add the internet to the mix, and the sky is the limit. It can be tough sometimes being a relaxed homeschooler. You feel that guilt and concern creeping up, that maybe you're not doing "enough". Days like today prove to me over and over we are doing just fine. It also helps to have a great group of relaxed secular homeschoolers who can talk you off the ledge. 🙂 My favorite place for that is the Relaxed, secular, eclectic homeschoolers with older kids group on facebook. It's a mouthful, but it's nice to have found some other people "just like me". 🙂  If you're looking to connect with other relaxed secular homeschoolers with older kids… we'd love to meet you.
I'd also love to hear what you're doing with your hand held microscope! Don't have one yet? Grab it here, and then tell us the first thing YOU looked at!