Hanna went to art and music camp last week, as she does every summer, however, this year, one of the options was to learn to do calligraphy. She wasn't sure she really wanted to learn calligraphy, but after taking the class for a week, she's hooked. Lucky for me, since it was already part of our 6th grade homeschool curriculum for art. 😉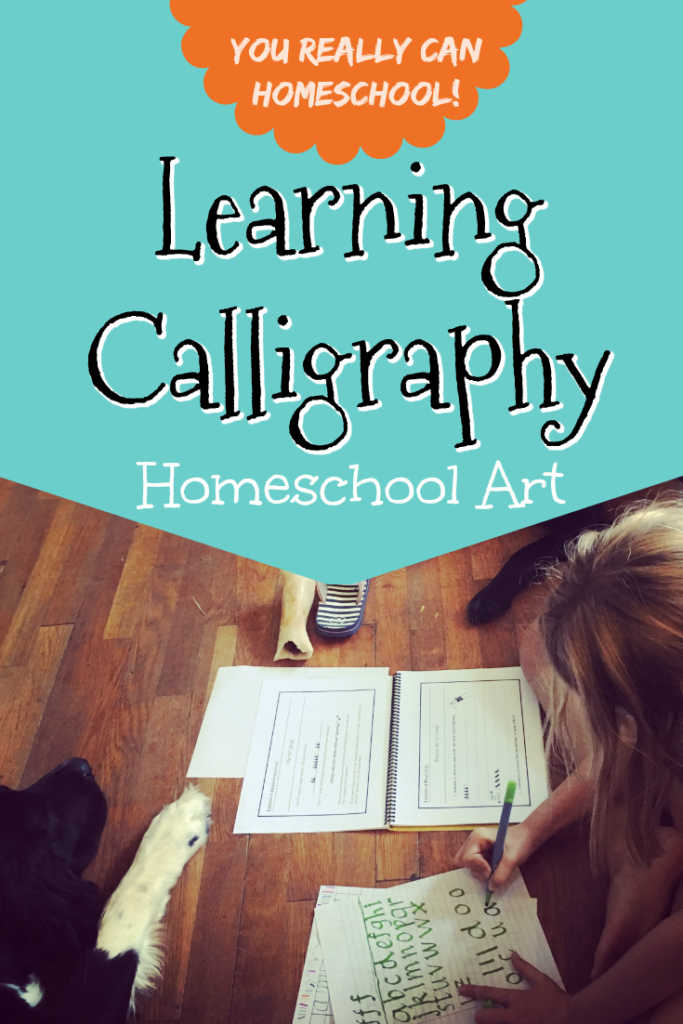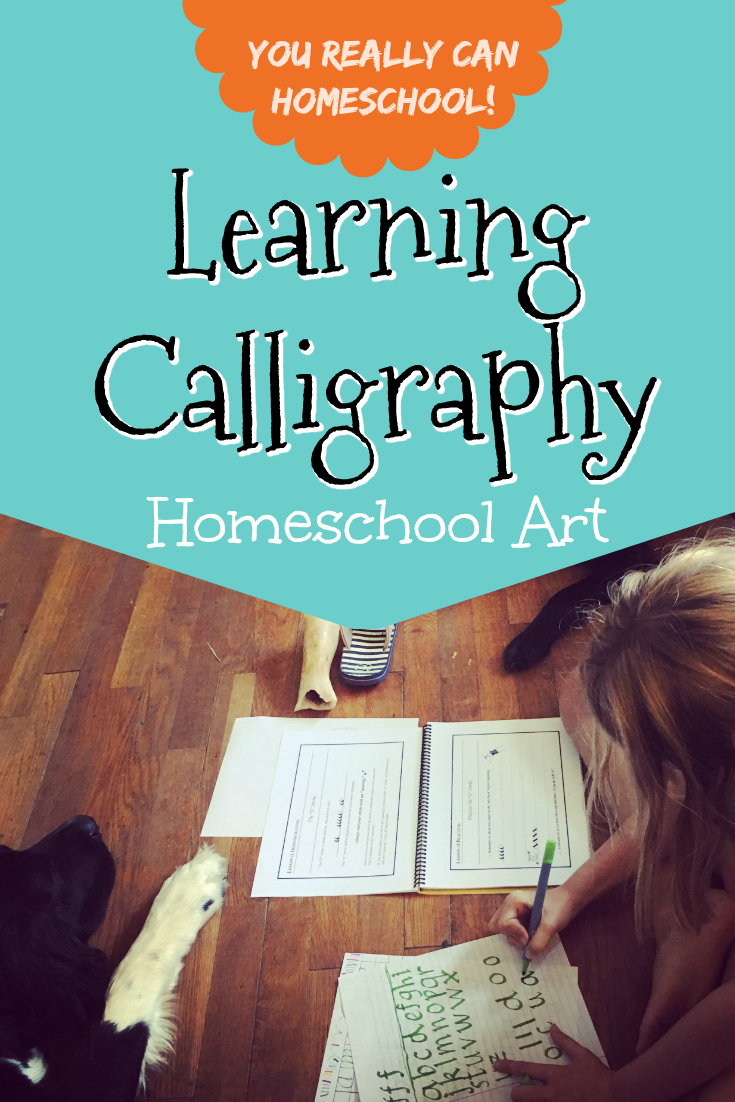 In the class she learned to draw calligraphy letters, as well as the basic calligraphy strokes she needs to know, to do calligraphy. She came home excited to dive into the calligraphy book we'd picked up at the homeschool used book sale. Unfortunately I can't recommend the book, though the lessons and instructions are quite good, it's filled with Bible verses to practice (aka totally NOT secular). I'm not sure how I missed that lol. I suppose I should have expected it considering where we live lol, but who thinks about whether calligraphy is secular or not?!!
Anyway, here's another book that can guide you through the process to learn calligraphy, and give you space to practice if you haven't taken a class yet. It's written by an expert in calligraphy, and not only teaches you the letters, but also the history of this art form.
To begin learning calligraphy you can get a beginning calligraphy set. It will come with pens and ink, and a book to teach you the strokes. If you want just a calligraphy pen set, there are quite a few to choose from, Staedtler calligraphy sets and Sheaffer calligraphy pen sets are some of the best known calligraphy products, and are wonderful, however, it's important to think about your student, and their goals.
We chose to go with the Kuretake calligraphy pen set. These are more like markers. They have the angled tip, just like a true calligraphy pen, however, they are much easier for kids to use, and a lot less messy. They are also water based, so any ink that gets on something other than the paper, is more likely to come out. Hanna received one of these calligraphy pens in her class, and really liked it, so we purchased the whole colorful set. I think part of the fun of calligraphy, and making it part of our art curriculum, is making it colorful and fun, which this beginner calligraphy set does.  If she chooses to take her calligraphy to the next level, we can always upgrade to one of the pen and ink sets.
Once you get your calligraphy pens and some practice paper, you are all set to go. We've decided to use calligraphy for our copy work. We are doing copy work with our Arrows this year, in fact, we're just finishing up the Hatchet Arrow. We started with a regular notebook, but decided to go with a thicker paper, sketch book so the ink didn't bleed through the pages. While it has no lines on it, she can pencil in lines to keep her letters straight if she chooses to.
Now that all that is out of the way, and you can get started I wanted to share a little story.
Hanna came back from camp excited about calligraphy and she decided she was going to teach me. I'd just listened to a Brave Writer podcast, and she'd talked about how letting kids teach you is a really important piece to the Brave Writer lifestyle. I thought this would be a perfect opportunity.
I told Hanna I was excited to learn calligraphy and we set about it. She put together a folder with papers in it. She cleaned off the craft table, and set me up a desk. She proceeded to call me Jackie, and herself Miss Lee. And then she proceeded to nit pick every single thing I tried to do as I did it. I got to the point where I was too anxious to even try a new letter, knowing she was going to point out the flaws before my calligraphy pen lifted from the page.
Now don't get me wrong… she was right on top of it with encouragement when I made a good letter. However, it was my first attempt, not many of my letters were good. 🙂
Beyond feeling frustrated I was getting worried about my teaching style! How on earth after a YEAR of learning together, and not dealing with this kind of "teaching" could she still think this is what it means to be a teacher?!
I stopped the lesson and we had a talk.
I talked to her about how I was feeling as she taught. I wondered out loud if she felt the same when she was the student and I was the teacher… and she nearly started to cry. "Oh no, mom, you never make me feel like that."
(well phew! but what the heck?!)
We continued to talk about learning, and teaching, and how we both learn best, and how that shows up in our homeschool. We talked about working together, sharing information, being partners in learning. We talked about how to point out mistakes without making the person feel horrible and want to give up, and so much more.
It was an enlightening experience. Whether in our classroom, or around the house, I know I can be nit picky sometimes. I didn't realize though, until I was in this position, just how anxiety provoking it can be. This experience really helped me see just how it feels. I was really surprised by the way I felt, and how I didn't want to do calligraphy anymore, at all. Her expectations were too high. It felt like I had to be perfect. I knew I wasn't going to be perfect, I didn't know what I was doing!
It dawned on me this doesn't only happen from being nit picky, but also from being "overly excited". It's about the pressure put on the learning experience.  Memories of the last year, all those well intentioned instructions,  and excitement I turned into avalanches of ideas for her, hit me like a ton of bricks. I suddenly knew exactly why she quit trying to learn Mandarin, or anything about China for that matter. When the pressure of someone else's expectations, for your learning and/or even enjoyment of a subject becomes more than your own, it becomes a burden. No one learns under that kind of weight.
I've come a long way, as a teacher and partner in learning, since we started homeschooling, but this exercise has shown me it's a never ending journey. It was also a learning experience for her as well. I'm eager to see how our second calligraphy "lesson" goes today. 🙂
Who knew, learning to do calligraphy was going to teach us so much?!