You might remember the post where I shared different books my reluctant reader actually enjoyed reading. It's gone a bit further than that… she's gotten to the point where she doesn't even want to talk about book, even less read them. 🙁
I tried quite a few different things, different books, reading then watching the movie, nothing really worked. I went to one of my favorite facebook groups and asked what they would do, the most popular answer, by a long shot, was audiobooks.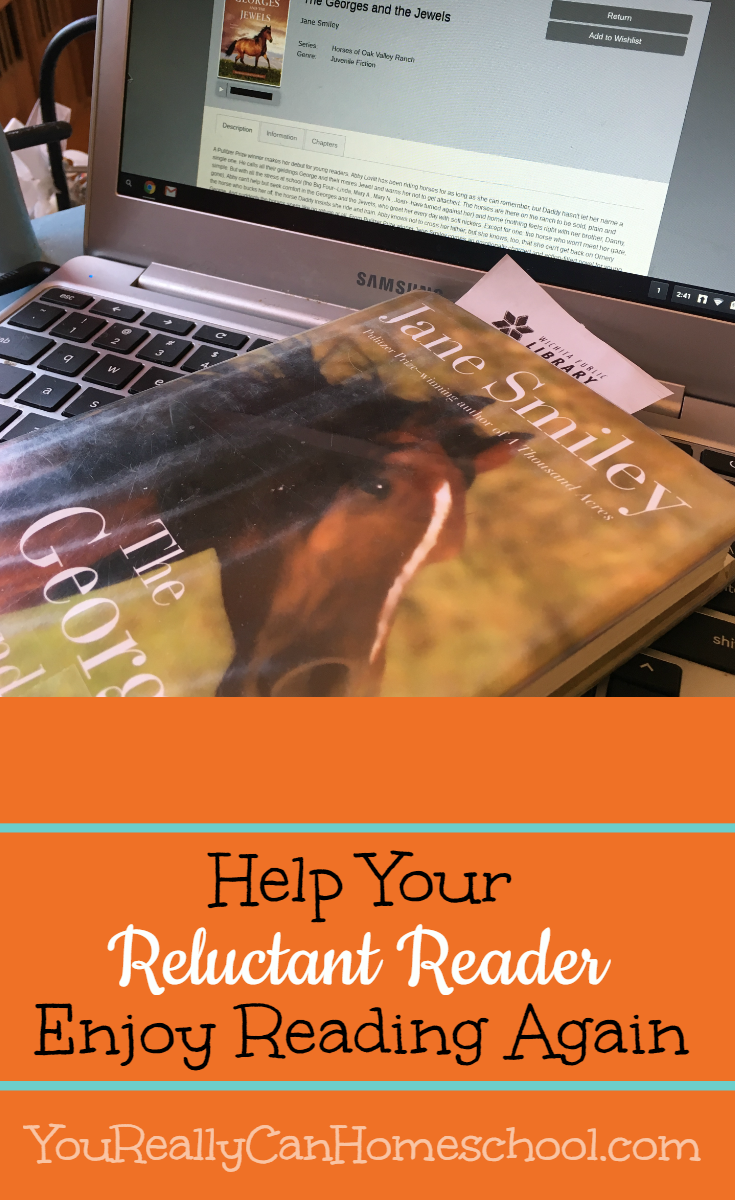 Me, I never even thought of audiobooks… because listening to a book isn't really reading it, is it? It really isn't in my world, but apparently not everyone holds my world view. 😉
At the time she really wanted to know the story of Ann Frank, but just couldn't get herself to read the book. We started talking about listening to the audiobook of Ann Frank, but it just didn't work out. It was not a good first introduction to audiobooks.
She did however, start looking through the catalog and ended up choosing another audiobook she thought she might like. Frindle. We popped by the library the next day looking for something else, and they happened to have Frindle on the shelf. She agreed to check it out, and decided to follow along with the audiobook.
This worked amazingly well. She finished the book in a couple days, and really enjoyed it. We happened to listen to the last couple chapters in the car, and though I only caught the end, it sounded like a really cute book.
Once she finished Frindle she started looking through the catalog to find more books she might be interested in listening to. This is a huge step forward for us, because as of late, she's been refusing any mention of books.
I did do a little digging to figure out the different options for audio books (since they are so out of my wheelhouse!). There is of course, Audible, which is an Amazon company. You can set up a Audible membership there, (which starts with a 30 day free trial and includes 2 free audiobooks) then it's $14.95 a month for 1 book/month. You also get some membership discounts.
You can purchase audiobooks each time you want one, though they seem to be quite expensive.
You can check them out from your local library. This method generally uses CDs so you have to have a CD player available. The tip I've heard on this one, is to check at garage sales. I hear you can get a killer deal on a CD player there.
The option we've taken thus far is to use OneClick Digital. It's a free service offered via our library. You get a library card (in our case it was a Kansas STATE library card ~ which you can get at any local library). Then you log in with your library card and you have access to the whole selection of audiobooks that are available. They have a large selection of audiobooks, across a wide variety of genres, with a robust search feature.
We then find the book at the library, so she can read along.
Once she finished Frindle she decided to start on the Horses of Oak Valley Ranch series by Jane Smiley. We had to go all the way to Wichita to find them in the library, but the audios are available on OneClick Digital. (and Audible)
This is how we're doing it, because things change so quickly with her I don't want to get us into a subscription service until I'm sure she's going to continue wanting to listen to audiobooks. 😉
This is working for now, and I have to say, I'm glad to see her picking up a book… even if someone is reading it out loud to her as well. 🙂 I do know, she's reading along though… when I've read out loud to her she's always been quick to point out when I mess up a word. 😛
What about you? Do you have a kiddo who's a reluctant reader or has just gotten burnt out and refuses to read? How are you dealing with it? Do you use audiobooks? Do you have other good resources? I'd love to hear them… feel free to share in the comments.