It all started when we bought a trip to Branson at the Kansas State Fair. I'm just going to say up front… I was against buying said trip. I swore after the last trip to Branson we'd never go back lol. But… they were giving away a 1/2 day of guided fishing, and my husband is a sucker for fishing. Once the trip was purchased we decided, since we were going, we might as well learn a little about Missouri before we get there.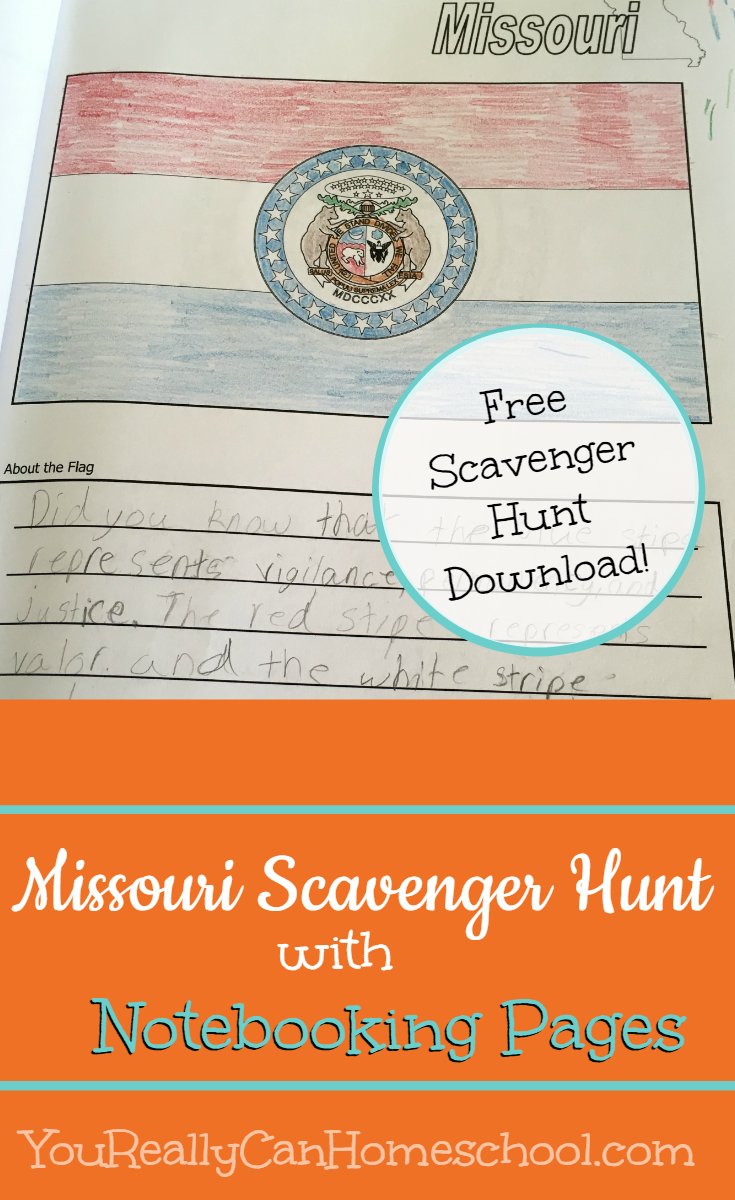 I thought about a few different things I thought it would be important to know about Missouri. I found these fantastic notebooking pages, and thought we'd just do the basics and fill them out. Problem is, we're still in that stage of our homeschool, where anything that looks faintly like "school" is met with much resistance. I realized I was going to have to be a little more creative than just handing over some notebooking pages and having her fill them out.
I decided to create a scavenger hunt. I created a list of different questions (some directly corresponding to the Notebooking Pages ~ some not, and I used blank Notebooking Pages for those questions). Some were really easy, some were more difficult. I put together a pack of Notebooking pages, and gave her the scavenger hunt questions. (You can download my Missouri Scavenger hunt questions at the bottom of the page.)
We talked about using resources to find the answers, and I had her think about all the resources she had at her disposal. She immediately ran to her stash of Which Way USA books to see if she's already received Missouri. Lucky for her, she had. She opened the map and on the back were all the simple facts she needed to find. She found the corresponding notebooking pages, and boom! filled them in. 🙂 No fuss. No muss.
It's amazing to me, how just a little different wording or framing of a situation can create such different results.
When she got to some of the harder questions, where she had to use the internet, (and a little more of her brain power) she got a little frustrated. We counted out all the questions, determined when we wanted to be finished with this project, and then figured out how many questions she'd have to answer a day to get them done when she wanted.
Two. It came out to 2 questions a day.
So yes, there were days when she was bummed, and whined "I don't wanna do Missouri!!" I reminded her it was only two questions she had to get done that day, and she seemed relieved and managed to get them done no problem.
Sometimes, when the framing is not enough to get her through a project, I have to be flexible, think about what outcome I really want from the project, AND I have to remember my overall goal for homeschool this, our first, year.
My main and only goal this year is to help her renew her love of learning.
When I think in terms of that goal, it's been easier to come up with creative solutions to the stumbling blocks we encounter. Identifying my MAIN goal for our first year of homeschooling has been like my North Star when we run into troubles. If you haven't done that, I definitely suggest you do. 🙂 It helps you stay aligned, and not get caught up in a bunch of I SHOULD be doing this, that or the other thing. It's so easy to forget why we came home, and fall back into a "public school" mentality. I mean, we've lived with it for a LONG time. But we're homeschoolers now… we can do it our own way now. We'll get through it, but it doesn't all have to be done today. <3
Anyway… Notebooking pages made this little Scavenger hunt more fun. There are pictures of the Missouri flag, the state seal, the bird, the flower all can be colored. She does that while she takes a break in the morning and watches some videos or a documentary. We can just hole punch the pages and stick them in her "work folder" when she's done.
You can get the Missouri pages, as well as all the other state pages ~ a complete US Country Study for FREE in the product sampler from Notebooking Pages. There are over 600 pages in the sampler, it will give you a really good idea if Notebooking Pages will be a good fit in your homeschool. I'm going to say, as a secular homeschooler, there are a LOT of Bible pages in this sampler. You don't have to use them. There are plenty of secular pages to make it still worth getting this sample pack. The pack is also very well organized you can find exactly what you want quickly, and skip over the Bible and religion pages. If you decide you want to use Notebooking Pages in your homeschoool, your best deal will definitely be getting a lifetime membership. You'll have access to literally thousands of notebooking pages on different topics, themes etc.
If you're not at all familiar with the concept of Notebooking Pages ~ you should definitely check this out. It explains everything. It's a really interesting concept, and with a little creativity I plan to add more and more of them to our homeschool. 🙂
Click here to download the Missouri Scavenger Hunt.  and then download your free sample Notebooking Pages to use with it.